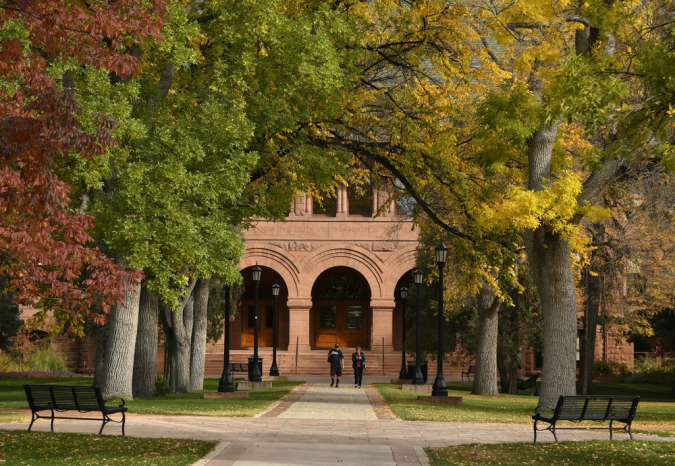 On Tuesday, March 20, while CC was on spring break, a white-supremacist, sexist, and anti-trans email attacking two dedicated campus leaders was sent to approximately 900 members of the CC community.
The message, sent anonymously, used vitriolic language and invoked hurtful stereotypes, all intended to harm the college's communities of color, especially the CC black community. It struck at the heart of two of the college's core values: diversity and inclusion.
CC President Jill Tiefenthaler denounced the email, saying, "We fully support our colleagues who were targeted. We stand against racism and hatred and will continue to do the work to build a strong, inclusive, understanding community."
The Colorado Springs Police Department is investigating the matter as a harassment, bias-motivated crime. The email was sent from an encrypted email service by someone hiding behind a fake name, and CC's email security was not compromised.
"When an unwelcome, hateful message violates our own campus, we must support one another, listen, and work through the pain," says Tiefenthaler. "We must be respectful, resilient, and caring,"
Even before the campus community reunited after spring break, students, faculty, and staff were working through the pain and fear with dialogue sessions, panel discussions, time and space for contemplation, activities for expression, and academic study on racism and intolerance.
The Butler Center, Chaplain's Office, and Wellness Resource Center are working together to provide ways for students, faculty, and staff to process and heal. The Counseling Center will meet students' needs and waive fees if needed, and counseling is available for faculty and staff through the Employees Assistance Program.
Young alumni and students have rallied to encourage contributions to programs and offices on campus that promote diversity and inclusion, including Race, Ethnicity & Migration Studies, Feminist & Gender Studies, The Butler Center, and the Bridge Scholar program. Academic departments and programs have a robust lineup of events in Block 7 for deeper examination of racism and sexism, and students were encouraged to use pre-registration as an opportunity to discuss with faculty how to further incorporate the study of social inequalities in their coursework.
All members of the campus community were invited to a lunch, panel discussion, and dialogue on the intersections of identities and erasure, racism and white supremacy following the Block 7 First Mondays presentation on March 26. Speaking at the event was Gregg Deal, whose work involves indigenous identity and pop culture, touching on issues of race relations, historical consideration, and stereotype.
"We will continue to work on ways to strengthen and empower our community to call out racism in all of its forms every day on our campus and commit to cultivating an inclusive campus culture that recognizes the various intersections of identities that make up the CC community," says Tiefenthaler.