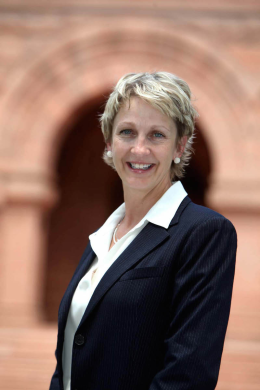 Colorado College President Jill Tiefenthaler will be a panelist at a conference on the future of the liberal arts college in America. Tiefenthaler, an economist, is one of three members of the "Economics and Affordability" panel at the conference, to be held April 9-11 at Lafayette College in Easton, Pa.
"The Future of the Liberal Arts College in America and its Leadership Role in Education around the World" draws a distinguished group of college presidents and other leaders to discuss major issues facing higher education and take the lead in developing new ideas and bold proposals to ensure the continued strength and value of liberal arts education for future generations of students.
Tiefenthaler will speak on Tuesday, April 10. Also on the panel are Catharine Bond Hill, president of Vassar College, and Suzanne Welsh, vice president for finance and treasurer at Swarthmore College. Among the topics to be addressed are the cost of college, financial aid, and budgetary management.
The conference is sponsored by Lafayette College and Swarthmore College, and is supported by a grant from the Mellon Foundation.