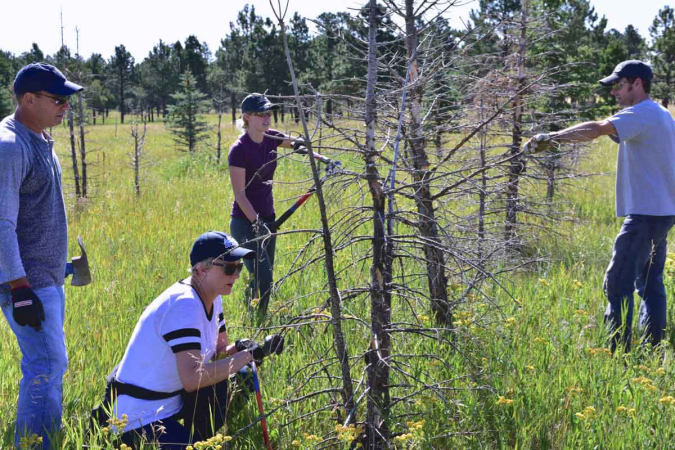 Several members of the Colorado College community, including President Jill Tiefenthaler and her husband, Kevin Rask, a research professor in the Economics and Business Department, recently participated in a Volunteers for Outdoor Colorado project at the Pineries Open Space, north of Colorado Springs.
The Pineries Open Space, comprised of 1,067 acres and spanning the Palmer Divide, was severely damaged in the Black Forest fire of June 2013. CC volunteers helped clear dead trees, debris, and invasive species from the property. The area is under a conservation easement designed to preserve the land in its natural state, with a buffer area set aside for development of park facilities.
Volunteers for Outdoor Colorado is a statewide leader in outdoor stewardship. In operation for more than 30 years, VOC has engaged more than 100,000 people to help take care of Colorado's outdoor infrastructure, contributing a labor cost of more than $20 million. VOC works with federal, state, and local land managers on a variety of projects, such as trail construction and maintenance, invasive species management, habitat restoration, gardening and planting, forestry management, flood and fire restoration, recreational improvement, and historic preservation.

Colorado College has a strong connection with VOC: Jeff Trujillo '91 currently serves on the Volunteers for Outdoor Colorado board of directors, and several CC alumni have gone on to work there, including Alice Plant '13, who started as a yearlong Public Interest Fellowship Program fellow during the 2013-14 cycle, and later was hired; Dean Winstanley '82, director of statewide stewardship; and Tarn Udall '08, who serves on their board of directors. CC's Public Interest Fellowship Program has had fellows with VOC since 2011.