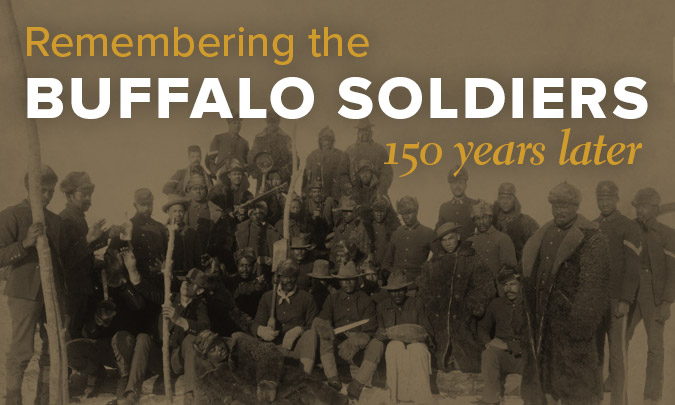 Colorado College was presented with an award and Assistant Professor of Race, Ethnicity and Migration Studies Michael Sawyer gave the keynote address at a ceremony honoring the Buffalo Soldier regiments of the U.S. Army. The event, held July 28, marked the 150th anniversary of the creation of the African-American regiments, which were formed a year after the Civil War ended and played a major role in developing the American West.

Dean of Students and Vice President for Student Life Mike Edmonds accepted the award on behalf of the college. In presenting the award, Vice Chair Col. Jim Mason commended Colorado College's academic guidance and support of the project.

Sawyer's keynote address, titled "Remembrance, Memorial, and Imagination," was delivered at the dedication of the newly installed Buffalo Soldier monument in Colorado Springs' Memorial Park. In giving his address, Sawyer noted that "It is particularly rewarding to be a former naval officer and be asked by my friends in the Army to help commemorate one of their most storied institutions in this fashion."
Bound up in the story of the Buffalo Soldiers are big questions about who gets remembered and who doesn't, and what it meant for former slaves and their children to fight for the country that enslaved them, says Sawyer. "To think about all that at the same time, and to have these kinds of complicated discussions without shying away from them, is what I hope the memorial represents. I think that's where we're at, from a perspective in this country - what's required is the ability to have complicated conversations," he says.
In his speech, Sawyer noted that "this memorial of memory will mean something very different to members of the armed forces who see a genealogy of valorous struggle in these soldiers and their stories as compared perhaps to members of the Native American tribes who were embroiled in this complex and devastating struggle for land that held both of these subjects: African and Native American as beneath the status of human. That must be understood and responsibly engaged to ensure that we do not recreate with our practiced silence the same type of erasure that requires this monument in the first place."
KRCC, Colorado College's NPR-member station, also did a story on the memorial. The monument is located in Memorial Park's Circle of Honor display, and features the names of 23 Buffalo Soldier Medal of Honor recipients.
Buffalo Soldiers were located in Arizona, Colorado, North and South Dakota, Kansas, Montana, Nebraska, New Mexico, Oklahoma, Texas, Utah, and Wyoming. Elements of the 10th Cavalry were stationed at Fort Lyons, Colorado, and troops of the 9th Cavalry were at Fort Garland, Colorado. The distinction and dedication with which the Buffalo Soldier regiments served help lead to the integration of the U.S. military in 1948.
To further highlight and recognize the soldiers' accomplishments, and to keep their achievements alive in people's memory, a 10-mile stretch of U.S. 24 between Colorado Springs and Manitou Springs will be designated the Buffalo Soldiers Memorial Highway.