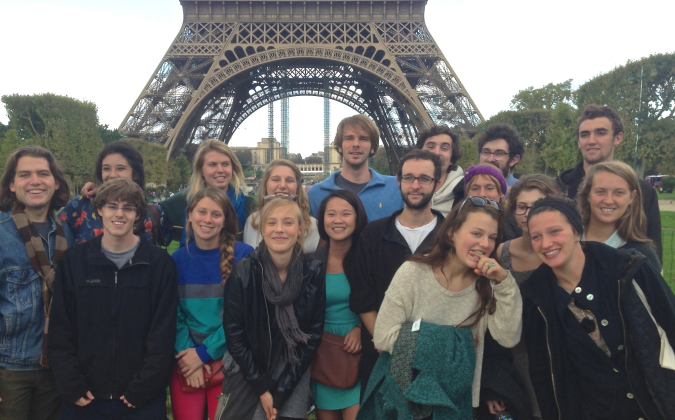 Jonathan Lee and Dennis McEnnerney completed teaching the first ever (but not last!) Colorado College philosophy seminar in Paris. Their course, "French Philosophy in Context: Existentialism to Globalization," surveyed the main currents of French philosophy since the 1930s. The course investigated philosophical discussions of existentialism, French feminism, decolonization, structuralism, deconstruction, post-structuralism, immigration, globalization, and the new realism.
The class met at Résidence du Palais, a traditional familial pension, located directly across the street from the Luxembourg Gardens in the 6th arrondissement of Paris, where the students were also lodged. Aside from being one of the most attractive neighborhoods of Paris, the 6th is also one of the intellectual centers of Paris, close to the Latin Quarter, home of the Sorbonne and the College de France, and the Ecole Normale, the institution that produced most of the scholars read in the course. Also, within blocks of the pension were the colleges (middle schools) and lycees (high schools) attended by most of the course's authors.
Why study in Paris for a block? Partly because the unusual history of France and the especially focused nature of the modern French educational system give philosophy a character unlike that found in any other country. Where else are philosophers entombed in a Pantheon? Where else is philosophy seen as so central to the stability and character of modern society that every advanced high school student must study philosophy and be expected to master the main tenants of modern philosophy in order to gain entry to any kind of institution of higher learning? Where else has the organizational character of modern society been so developed and led people so to question the power of organization?
A block in Paris focused on recent French philosophy also allowed the students to engage with a cohesive body of literature central to the discipline while residing in Paris made visceral the reasons generations of French intellectuals have felt driven to raise basic questions concerning the meaning of life. In addition to field trips designed to connect the history and culture of France and the character of recent French philosophy, the course also benefited from visits by four younger faculty members teaching philosophy in France: Patrice Maniglier of the University of Paris X - Nanterre; Lissa Lincoln of the American University of Paris; Tzuchien Tho of the École Normale Supérieure; and François Cusset of the University of Paris X - Nanterre.
One student summed up the block especially well:
The experience of being immersed in the life and culture of Paris, working daily and intimately with professors and students, deep inquiry into and analysis of the ideas within French philosophy which transcend all disciplines and are relevant to modern society and life in so many ways, and constant essay-writing with helpful feedback/criticism on those essays made an extremely significant contribution to my education.
Based on positive feedback, Jonathan and Dennis hope to offer the course regularly in the future - every other year, if possible.