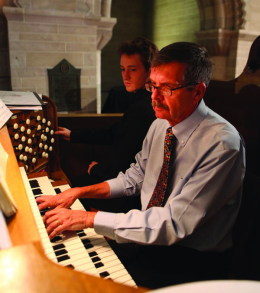 Imagine a global event comprising 850 concerts around the world celebrating the organ music of an 850-year-old cathedral, with music ringing out for more than 24 hours across five continents. Imagine Colorado College being part of that worldwide celebration.

CC Organist Frank Shelton will participate in an international celebration honoring the 850th anniversary of Notre Dame Cathedral on Monday, May 6, which has been designated World Organ Day. Shelton, one of the few Americans to have performed three times in Notre Dame Cathedral, will present a free concert at 7:30 p.m. in Shove Memorial Chapel, on the famed Shove Chapel organ.

Organizers of the event invited organists who have performed at Notre Dame to celebrate this historic anniversary with concerts of music highlighting compositions spanning nearly nine centuries. "This will be an extraordinary day, as at any given moment an organist somewhere in the world will be performing music by Notre Dame composers," Shelton said.

The concert at Colorado College will include not only compositions by famous Notre Dame organists, but also compositions by American composers Margaret Sandresky, Pamela Decker, and CC Music Professor Ofer Ben-Amots, whose work Shelton has premiered at the cathedral. Shelton will be joined by trumpeter Glen Whitehead to perform Ben-Amots' "The Queen City Fanfare.

The more than 850 concerts will feature the repertoire of Notre-Dame de Paris in places of worship and concert halls throughout five of the earth's seven continents. Due to time differences around the world, the concerts will stretch for more than 24 hours, making this an unprecedented event.