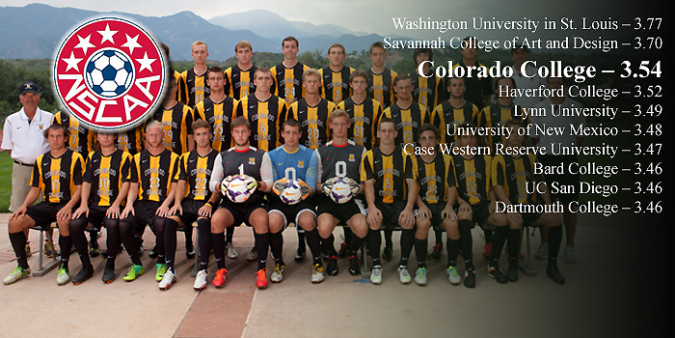 The Colorado College men's soccer team posted an impressive 14-6-2 record during the 2013 season, but its year-long performance in the classroom was even more remarkable.
The Tigers recorded a combined 3.54 grade-point average and earned the National Soccer Coaches Association of America's SCAA Team Academic Award for the eighth year in a row and the 14th time since the recognition was instituted in 1996.
CC ranked third nationally among the 281 squads honored from all three NCAA Divisions. To qualify for the award, teams needed a minimum combined GPA of 3.0 on a 4.0 scale.
"We're absolutely thrilled to be ranked No. 3 in the nation," head coach Horst Richardson said. "We are extremely proud of the achievements of our players both on the field and in the classroom."
The Top 10 consisted of Washington University in St. Louis (3.77); Savannah College of Art and Design (3.70); Colorado College (3.54); Haverford College (3.52); Lynn University (3.49); University of New Mexico (3.48); Case Western Reserve University (3.47); Bard College (3.46); University of California, San Diego (3.46); and Dartmouth College (3.46).
CC was one of three Southern Collegiate Athletic Conference programs to earn a spot on the list and one of four from the state of Colorado.
The Tigers were led by biochemistry majors Brandon Ogilvie, who was named a second-team Scholar All-American, and Sean Parham, who was named to the all-West Region first team.
Colorado College also had 19 players earn a place on the SCAC Honor Roll for excellence in the classroom for the 2013 fall semester.