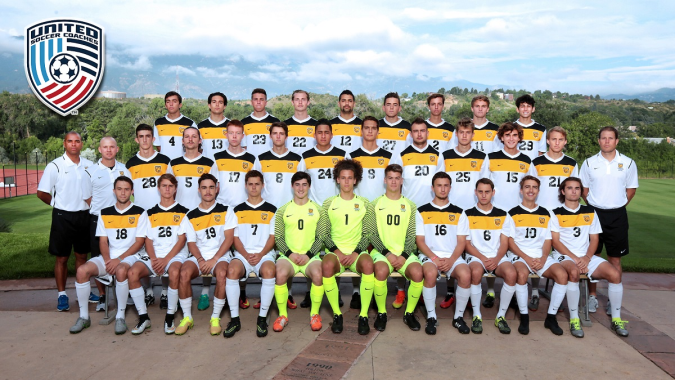 The Colorado College men's soccer team continued its tradition of academic excellence by receiving the Team Academic Award from the United Soccer Coaches (formerly the National Soccer Coaches Association of America) for the 11th year in a row.

The Tigers ranked eighth nationally across all divisions with a 3.52 grade-point average during the 2016-17 academic year.
All told, 282 men's programs were recognized for maintaining a minimum 3.0 cumulative team GPA on a 4.0 scale.
Leading the way were Soren Frykholm '16, Jack McCormick '17, and Theo Hooker '18, each of whom were named NSCAA Scholar All-Americans for their standout performances in the classroom.
They and 18 of their teammates earned a spot on the Southern Collegiate Athletic Conference's Academic Honor Roll for maintaining a minimum 3.25 GPA.
"Our players never lose sight of the big picture and it brings our staff great joy," says head coach Scott Palguta. "Our fall travel is time-consuming, strenuous, and exhausting, yet the guys always prioritize their academics. I admire them greatly for their commitment to being well-rounded student-athletes."
It marked the 17th time that the CC men's program earned the distinction since the award was initiated in 1996.
Anderson University ranks first with 20, followed by Haverford College (19) and Adelphi University (18). CC is tied with Duquesne University, Lynn University, the University of Notre Dame and the University of Pennsylvania.
The Tigers finished the season with a 16-3-1 record and were ranked as high as No. 14 in the NSCAA Division III Poll.