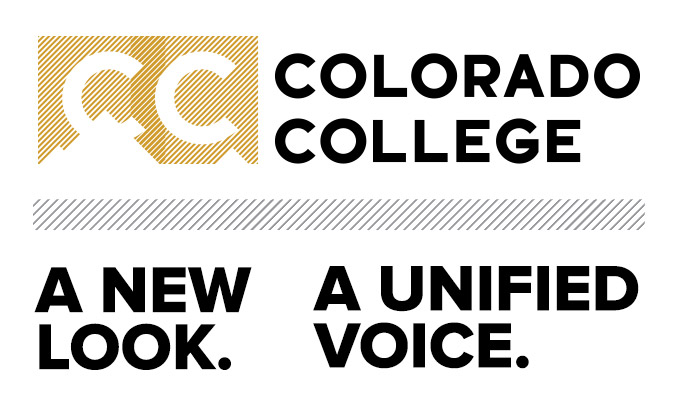 Colorado College is starting 2016 with a new look and unified voice. With the help of the campus and alumni community, CC recently completed its first comprehensive Master Communications Plan, which identifies and helps convey a truer sense of what it means to be CC.

The plan, which includes a new college logo, reflects key differentiators that set CC apart: the Block Plan, a strong sense of place, and amazing people. These elements are manifested in new the logo: CC's signature program, the Block Plan, denoted by a square; its sense of place, the mountains, denoted by a triangle; and its engaged and innovative people, by a circle.

The plan, a year and a half in the making, was developed based on input from all reaches of the CC community, including students, faculty, staff, alumni, prospective students, parents, and trustees. It provides an integrated, intentional guide, pulling together in a powerful, unified look and voice many of the essential elements the CC community already knew about itself.

Among them:
CC's program: The Block Plan allows students and faculty to fully explore the depth and breadth of each subject, one course at time.
CC's place: The Rocky Mountain West sets the stage for much of the learning that takes place at CC. This ranges from the classrooms, studios, and labs on campus, located near the base of Pikes Peak, to the nearby mountains, greater Southwest region, and urban centers.
CC's people: The people of Colorado College are intelligent, engaged, independent, and tenacious, resulting in life-long learners who are equipped to lead a life of impact and meaning.
The Master Communications Plan, launched at a campus-wide presentation on Jan. 25 in the Cornerstone Arts Center, will help share and bring to life the vibrant stories that make up the CC community.