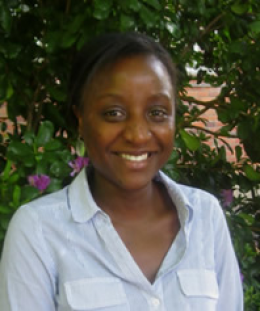 Chemistry major Leah Chibwe '11 has received a prestigious award from the National Institute of Environmental Health Sciences to study the toxicity of soils in a three-month externship at the University of North Carolina at Chapel Hill.
Chibwe is a graduate student at Oregon State University whose research focuses on developing an analytical method to identify and measure toxic compounds in soils that have undergone bioremediation, or the process of using microorganisms to remove pollutants. At Oregon State, she works with a Superfund Research Program under the guidance of Staci Simonich. At Chapel Hill, she will work in the laboratory of Michael Aitken and Jun Nakamura to learn and use the novel DT 40 bioassay to identify soil compounds that are potentially toxic to genes.
Chibwe, who is from Kitwe, Zambia, says that the "3.5 week deadline mentality" she developed at CC has served her well in graduate school.
"I think one thing that really prepared me for this externship was my research experience and project with Murphy Brasuel," she said. The project with Brasuel, a chemistry professor and chair of the department, was trans-disciplinary and she worked with cells more than she would have ordinarily. "This experience helped me transition into this UNC externship project, which has pushed me out of analytical chemistry and into the world of cells and DNA."
Chibwe came to CC as a Davis United World College scholar, and is still considering what she wants to do after graduate school. "I am not certain about my plans for the future but I think I would like to work for an environmental agency," she said.