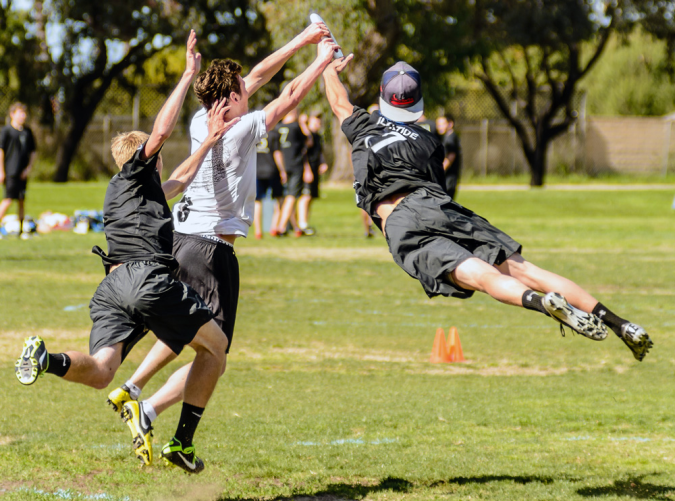 For the second time in less than five months, the Colorado College Men's Ultimate team has garnered national attention.
Previously recognized for orchestrating the Harlem Shake aboard a Frontier Airlines flight while en route to the President's Day Invitational in San Diego, the Tigers more recently were showcased in USA Ultimate's Top 10 Plays of the Year.
Nick Brown '14 was captured making a catch between a pair of UC Santa Barbara defenders in a photograph by Lynne Skilken. CC won the game, 13-8, and went on to finish 10th in the 20-team field.
"Ultimate, which began at Colorado College as a coed club in 1992, is the fastest growing sport in the nation in terms of participation," said captain/coach Gavin Nachbar '14.
The Tigers compete at the Division I club level against teams from BYU, CU-Boulder and the University of Texas, to name just a few.
Colorado College finished the 2013 season with a 19-11 record and advanced to the regional level by virtue of a second-place finish at the Rocky Mountain Conference Championship.
CC earned a trip to the national championship in 2011, where the Tigers finished 18th overall. Their season ended at regionals the last two years.
Brown and Nachbar already are planning to remain near campus after graduating next May to prepare for the team's appearance at the 2014 national championship, should the Tigers qualify with a top-two finish at the regional tournament.
Ultimate's competitive season runs from February through June, but Colorado College will play host to a preseason tournament the weekend of Oct. 5-6 at a site to be determined.
One showcase game, against either BYU or CU, will be played on Saturday under the lights on Washburn Field.