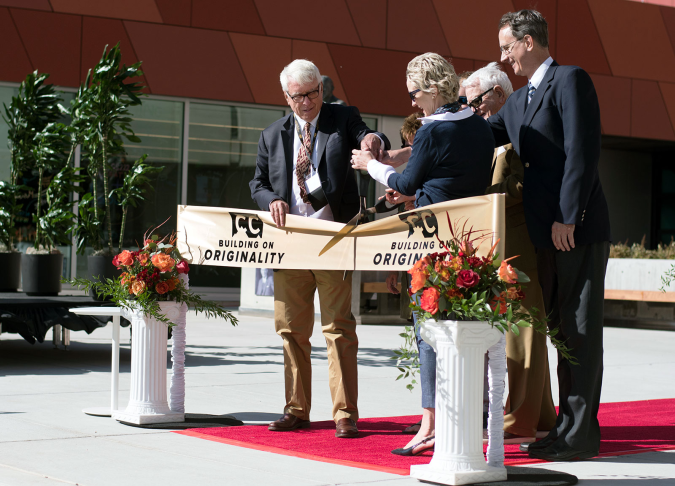 Colorado College completed 2017 with a number of gifts from individuals that are advancing Building on Originality: The Campaign for Colorado College, a comprehensive $435 million fundraising campaign that launched publicly in October. As of Dec. 20, the campaign had raised $313 million.
"The college has received several significant gifts this year that are strengthening the CC experience for our students," said Colorado College President Jill Tiefenthaler. "Many alumni and friends have participated in the campaign through class reunion gifts and the recently completed CC vs. DU Gold Pan Giving Challenge. Our campaign efforts also are benefitting from an outpouring of generosity from Colorado College faculty and staff."

The college received several new gifts to support the Edward J. Robson Hockey Arena. The college announced plans for the new on-campus facility in 2016 following an $8 million gift from alumnus Ed Robson, Class of 1954.

During 2017, the college received a major estate gift from alumnus Scott Smith, Class of 1976, which will be directed toward the college's General Endowment Fund.

Colorado College also received a significant anonymous estate gift from a member of the Class of 1967 that will be directed toward CC's biology department.

The Class of 1967, which celebrated its 50th reunion in October, achieved 52 percent participation in giving and funded the Tech Sandbox, located in the renovated Charles L. Tutt Library, where students and faculty can use and experiment with emerging technology.

Alumni who celebrated reunions this year have collectively given nearly $10 million to Colorado College so far during 2017.

Alumnus Ray Petros, Class of 1972, a Denver-based attorney who received the college's Lloyd E. Worner Award and is serving on his 45th reunion committee, told alumni at Homecoming that he believes they should give back to perpetuate Colorado College opportunities for current students and future students.

He encouraged alumni "to serve our college not only from a sense of obligation and as a way to pay forward that debt, but also because we believe that CC's unique brand of liberal arts education has been essential to our careers and more meaningful lives."

Petros also told classmates that he believes "we choose to serve the college because it has enriched our lives through coursework, friendships during and after graduation, those self-learning block breaks, and our reverence for the environment from being here in the Rocky Mountains."

In addition to alumni who made class gifts during their reunions this year, more than 4,000 donors participated in the second CC vs. DU Gold Pan Giving Challenge. The challenge began on Nov. 1 and concluded on Nov. 28, which is nationally recognized as Giving Tuesday. CC alumni won the participation challenge, and donors collectively gave more than $1 million to the college.

Colorado College employees also have demonstrated their appreciation for CC by giving through a Faculty and Staff giving initiative that launched in March. So far, more than 70 percent of faculty and staff have made a gift to Colorado College this year.

"Colorado College employees - our faculty and staff - are devoted to our mission. They also are providing great momentum for the campaign and inspiration for alumni, parents and friends of the college to make gifts of their own," said Tiefenthaler. "In 2018, we will accelerate the campaign's momentum by hosting events nationwide that bring alumni, parents and friends together in San Francisco, New York City, Chicago and Denver."