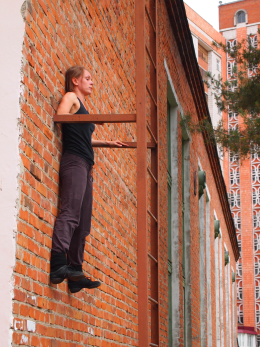 Colorado College Associate Drama/Dance professor and choreographer Shawn Womack has spent the past month in Kazan, Russia, creating a new work for the city's chamber dance company, Pantera. Womack's choreography, "Terrain," premieres in Kazan on June 15 and investigates the memories and promise of various landscapes within this historic Russian city in the Republic of Tatarstan.

Through video and live performance, "Terrain" explores buildings and locations that are aged and decaying or abandoned in mid-construction. Embedded within these urban environments are invisible histories or stalled possibilities that allow the dancers to sensually and kinesthetically connect with the sites and re-imagine their past and/or future.

Pantera, a company of 10 dancers committed to producing contemporary dance and theater, has worked with choreographers from Europe, Asia, and the United States, and recently completed a tour of Italy. Womack's month-long residency is supported by Pantera; Kazan's Ministry of Culture; IREX, an international non-profit; and a summer grant from the dean's office at Colorado College.