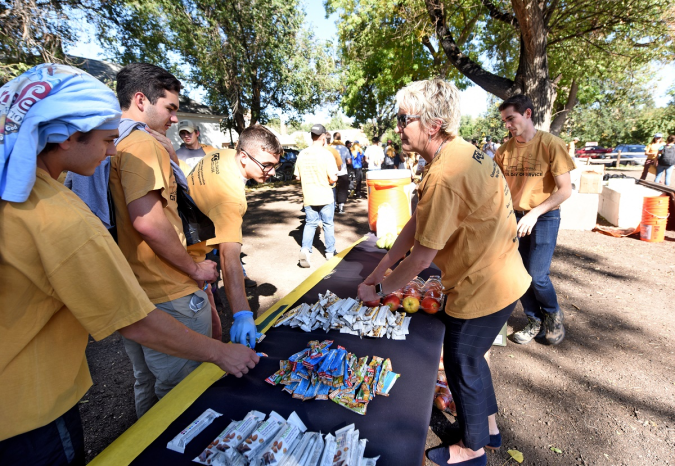 More than 350 members of the Colorado College community participated in a local day of service, cleaning up trash along neighboring Monument Creek. Participants worked in two-hour shifts and collected a total of 3,140 pounds of trash from both sides of a two-mile stretch of the creek.
The daylong event, sponsored by CC's Collaborative for Community Engagement, EnAct, and the Regional Business Alliance, brought out CC faculty, students, and staff, as well as neighbors and area alumni.
The lure of the water and the potential of the area appealed to many, including those who went as part of a CC class called Re-enchanting the World: Reality in Ecological Perspective, co-taught by mathematician Mike Siddoway and theologian Phil Devenish. Among them:
Cassie Cohen '17, a psychology major from Lincoln, Massachusetts, says she wanted to help clean up the creek "because it feels like a part of our campus."
Leah Di Filippo '17, an economics major from Gladstone, New Jersey, says cleaning the watershed area "will help change how it's viewed and how it's branded."
Ben Garinther '17, a fly fisherman from Baltimore with a self-designed major in environmental philosophy, says "This creek should be valued more. It would be unreal to come down here and fish in Monument Creek."
Rebecca Glazer '18 from San Francisco with a self-designed major in philosophies of sustainable development, says "It's important. CC has a responsibility for the waterway that flows through it."
Local alumna Carrie Ryden '95, MAT '96 joined the cleanup effort, along with husband Doug and 9-year-old daughter Hazel. "It's something we can all do together as a family, and the fact that we're doing it as part of a community is even better," she says.
Other communities were represented as well. All six Greek life organizations on campus participated, and well as nine Colorado College athletic teams, including men and women's lacrosse, women's basketball, men's soccer, cross-country, tennis, women's rugby, Nordic skiing, and swimming and diving.
A variety of student organizations joined the effort, including Mortar Board, CC's Student Government Association, President's Council, Chinese Students Association, Community Engaged Scholars, and Boettcher Scholars. Entire CC offices had strong showings, including Human Resources, the Career Center, and Communications. Colorado College President Jill Tiefenthaler was on site during the afternoon, handing out water and a variety of snacks to the volunteers.
Community members got involved as well, with participants from the Pikes Peak Area Council of Governments, Regional Business Alliance, Old North End Neighborhood, Steele Elementary School, Palmer High School, and Patty Jewett Neighborhood Association.
Jake Walden '16, a fellow in the President's Office and lead coordinator on campus for the effort, said he was pleased with the enthusiastic turnout. The event was capped off by a community barbecue for volunteers, which was hosted by members of EnAct, a CC student environmental organization, and paid for by the CC Student Government Association.