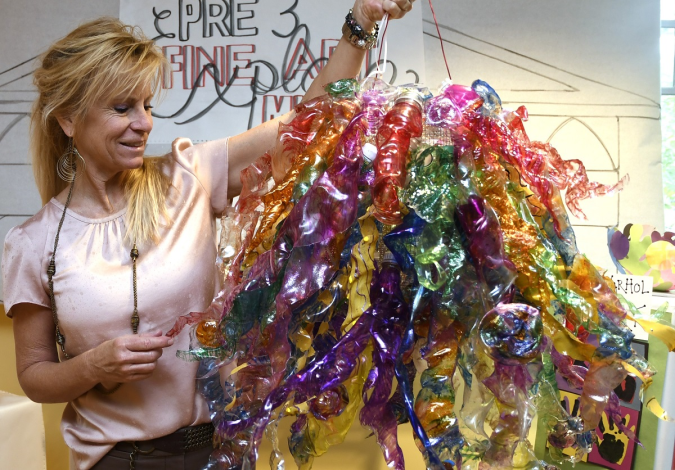 Albert Einstein once said "Imagination is everything. It is the preview of life's coming attractions."

Imagination certainly is on display at the Colorado College Children's Center, its hallways an amazing preview of the creativity and ingenuity the preschoolers are developing.
Exhibited in the front hall of the Children's Center is a "Preschool Fine Art Museum" featuring Monets, Chihulys, Klimts, Warhols, and others - or at least a preschool interpretation of the masters. Recycled water bottles, painted with watercolors and permanent markers and fastened to a chicken wire base, make a striking Chihuly hanging sculpture. Another Chihuly rendition is created from melted plastic Solo cups, painted and glued to driftwood. And a third Chihuly sculpture - Chihuly being a favorite of the young students - is created from painted coffee filters strung together.
Credit much of the behind-the-scenes work to Gina Thompson, an early childhood educator at the Children's Center, who did a lot of the melting, gluing, stringing, and fastening of artwork to chicken wire.
"It was a kid-driven project," says Thompson, who works with students in the kindergarten readiness program. A recent theme in the class was artists and their art. After spending time studying and researching various artists, Thompson and others at the Children's Center, including CC student volunteers, took the preschoolers on a field trip this summer to the Colorado Springs Fine Arts Center, only a few blocks away. "It's so wonderful that it's within walking distance," Thompson says.
"The kids were really inspired when they saw many of the artists we had studied there," Thompson says. "It really sparked their imagination and they were incredibly enthusiastic about learning more."

Prior to their trip, and the students examined books with pictures of the artists' work and read children's books about the artists' lives. They studied Monet, noting that many of his paintings featured gardens and bridges. They studied the Klimt cats, observing the geometric shapes, how the cats sit with their tails positioned behind them, and how Klimt's works are highlighted with gold.
They looked at Van Gogh's works, and made their own swirling "Starry Nights." Cubism came to life with watercolors on paper as they drew, cut, and formed eyes, nose, mouth, and eyes. They saw paintings of fields of poppies, and then painted their own versions, a series Thompson calls "Poppies in Perspective."
Throughout the process, Thompson encouraged the students to use the entire paper, to have their artwork take up the whole page and not only a tiny portion of the paper. "That is one of the biggest challenges," she says. "I also want them to take time and have pride in their work. Once they see what they can accomplish with the techniques, mediums, and color combinations they experiment with, the kids get so motivated to create more and take chances."
The art and artist "block" is over now, and Thompson and her students are moving on to a rockets and space theme. "It's providing me a chance to get to know my new students and what inspires them," Thompson says. "Student-inspired lessons are so much more meaningful to the students and it is always fun, as a teacher, to watch the kids get excited about their learning. I can't wait to see where their imaginations take them on this."