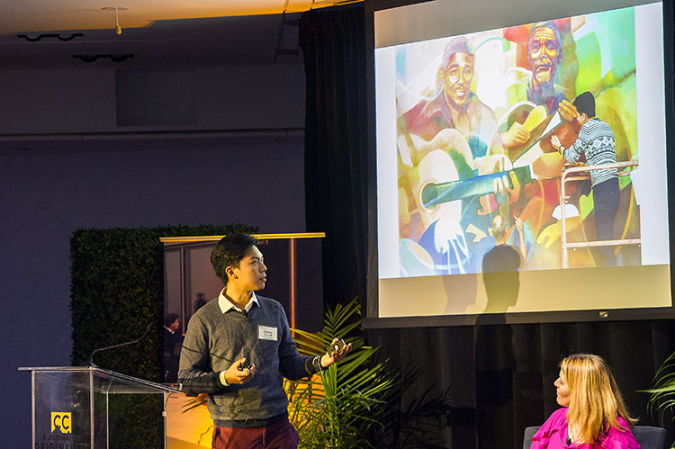 CC studio art major Quang Vu '18 joined presenters from the Colorado Springs Fine Arts Center at Colorado College, along with a panel of alumni, for "Changemakers Who are Enlivening the Arts," on April 19 in New York City.

The Colorado College event, which was attended by approximately 150 alumni, parents, and students, featured the role that the arts are playing at CC and as a funding priority through Building on Originality: The Campaign for Colorado College.

During his presentation, Vu spoke about his experiences working with visiting faculty member and artist Ralph Allen. Vu assisted Allen with a mural for the Fine Arts Center that coincided with "The Art of Haiti: Loas, History, and Memory" exhibit.

Vu explained how working with Allen challenged what he had learned previously as an artist and, ultimately, changed his perspective. See Vu in "The Art of Mentoring" video.

Along with Vu to present on the FAC were Museum Director and Associate Professor of Art Rebecca Tucker and FAC Curator of Modern and Contemporary Art Joy Armstrong, who spoke about the alliance between the FAC and CC as well as the FAC's strategic plan that emphasizes excellence, access, and collaboration.

President Jill Tiefenthaler and Trustee John Troubh '79 co-hosted the event that included a panel discussion moderated by CC Professor of Theatre and Dance Tom Lindblade. Panelists included actor Gareth Saxe '93; producer Marc Webb '96; and producer Nancy Nagel Gibbs '71, who will deliver CC's Commencement address on May 21. The panel discussed how experiences at CC and afterward have influenced their career paths and equipped them to learn from and overcome challenges.

Support changemakers and the arts at Colorado College through the campaign with your gift today.

View photos from the event. Jonny Goldstein '91 made a video from his sketchnotes of the event. Learn more on his blog.