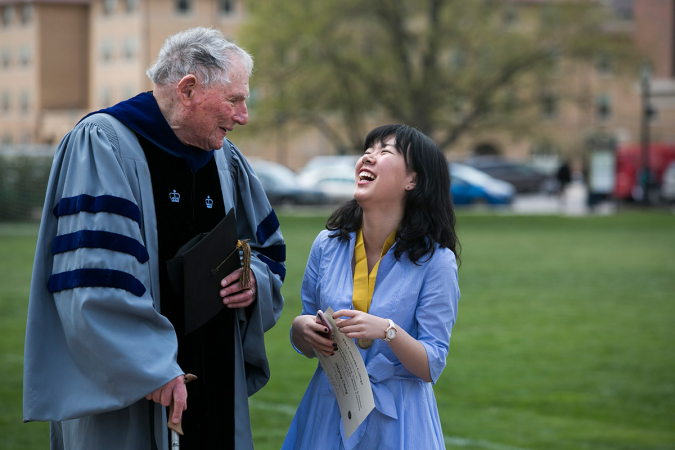 Colorado College honored more than 100 outstanding students during its annual academic Honors Convocation, held Tuesday, May 2 in Shove Memorial Chapel. Honors Convocation, which also recognizes faculty and staff, includes departmental awards, all-college awards, and awards from the CC Student Government Association.
This year's ceremony included the presentation of four first-time awards:
The Steven Janke Award in Computer Science, named for Professor Emeritus Janke, who founded the computer science program at CC, was awarded to Soeren Walls '17
The Grace Hopper Award in Computer Science, presented to the graduating senior who best demonstrates an unusual commitment to the computer science community, was awarded to Gillian Hyde '17
The James Nevin Trissel Prize for Excellence in Books Studies, named for Jim Trissel, founder of The Press at Colorado College, was awarded to Amelia Atencio '18
The Barbara Whitten Prize for Women in the Natural Sciences, named for retiring Professor of Physics Barbara Whitten, was presented to Zoe Pierrat '17
Additionally, numerous student-athletes received awards, with Abbe Holtze '17 receiving the Laura Golden Award and Soren Frykholm '17 the Van Diest Award.

The Colorado College Student Government Association (CCSGA) also presented awards, including naming Eboni Statham '17 the CCSGA Involved Student of the Year; Associate Dean of the College and Associate Professor of Economics Pedro de Araujo the Outstanding Advisor of the Year; and Professor of Economics Jim Parco and Associate Professor of Race, Ethnicity and Migration Studies Michael Sawyer, the Lloyd E. Worner Teachers of the Year. They awarded the Involved Student Organization of the Year to the Student Association for Sexual Safety.
A complete listing of the 2017 Honors Convocation award recipients is available online; note that when "name withheld" is indicated, it is done at the student's request.
The Honors Convocation program takes the place of the traditional First Mondays event during Block 8.