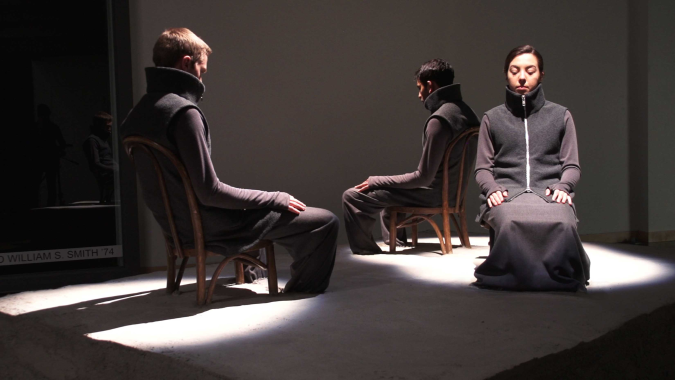 Marie Davis-Green, assistant professor in the Theatre and Dance Department, presented four works recently at the prestigious World Stage Design 2013 held in Cardiff, Wales.
"They accepted 115 people internationally in all the areas of design, combined, so it was a great honor to be a part," Davis-Green said. "I was thrilled my work was accepted within the category of performance design/installation."

Davis-Green presented videos, three models, and photos of works performed earlier this year at the Edith Kinney Gaylord Cornerstone Arts Center. The overall theme of the socially conscious performances was immobility and isolation due to spatial constraints and resource depletion, she added.

In the first work, "Loss of Habitat/Loss of Language," three characters are embedded in cement, depicting her observation that seven languages a day are lost, along with habitat, species, resources, and diversity, as populations increase and cities expand. Rayna Ben-Zeev '15, Shawnan Banus '14, and Matt Lopez '14, played the three characters who rediscover and vocalize words associated with aquatic life. Over the course of the piece, the sounds degrade as the characters return to immobility. See the six-minute video.

Davis-Green explained the three other works:

"Frozen Forms" A time-lapse video of an ice block, starting at the average size of a newborn baby, was recorded over a 24-hour period until melted. It is a metaphor for the babies that froze to death in a Kabul refugee camp last winter. Inside the cube are the distant sounds of a child singing; the trace of childhood not lived.

"The Spirit of Caliban" This is a newly adapted script I based on Shakespeare's, "The Tempest." In it, Caliban, Prospero, and Ariel are the same person. Caliban plays the alternating personalities, brought on by years of isolation and confinement after being stripped of his free will. Limitations of space, economic immobility, and reduced freedoms often result in stress, depression, and irrational behaviors. Caliban becomes the embodiment of these frustrations and limitations. A special thanks goes to Christopher Goetz, guest artist, for finding Caliban's spirit.

In contrast to the vocal movement of "Loss of Habitat" is "Requiem." The space is reminiscent of a cold morgue open to the elements, "nothing of him that doth fade, but doth suffer a sea-change into something rich and strange" - Shakespeare. Cellist Jeronimo Sexton '16 plays the beautiful music.

The technical director for the performances was Paul Martin; Katie Hamilton was the assistant technical director, and Jane Spencer was the lighting designer for the performances.

One of the World Stage Design curators, Reija Hirvikoski, noted the variety of works chosen across different continents. "Quite naturally we chose productions, images, and designers that somehow moved our souls," she said.

"The ability for stage and performance designers to inspire and 'move souls' is the greatest reward," Davis-Green said.