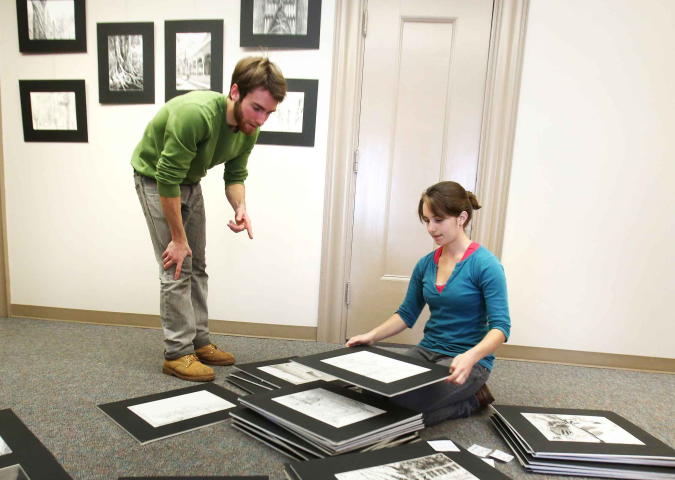 Colorado College studio art majors Kylie Anderson '14 and Michael Franceschi '14 curated "Two Years in Seville," an art show that currently is hanging in Colorado Springs City Hall. This show highlights student artwork from the past two years of the Block 8 Advanced Drawing classes held in Seville, Spain.

Selected drawings from CC students will be on display in the newly dedicated citizen gallery space during December and January. A reception with City Council members, Colorado College faculty, staff, and students, and community members will be held at a later date in January.

Upon returning to Colorado after studying in Seville, Anderson and Franceschi wanted to showcase the work of their classmates, presenting the student artwork from the past two years of the Seville drawing class in a single show. Advanced Drawing Professor Bogdan Swider directed Anderson and Franceschi to Kait Beck, manager of the Dream Catcher Gallery in Colorado Springs, and she enthusiastically agreed to help the students hang their show in her gallery for the entire month of November.

"Two Years in Seville" features the work of Caitlin Armington '14, Adrian Baker '14, Garrett Benisch '14, Chris Edmonds '14, Heidi Flores '16, Anna Forster-Smith '14, Arianna Gentile Polese '14, Hunter Joerger '14, Sonora Miller '14, Erin O'Neill '14, Dominique Saks '14, Hailey Walsh '14, as well as Anderson and Franceschi.

"The most interesting thing about this show is the story behind it; that all these students went to Spain for three and a half weeks to draw and enhance their art skills. Traveling is such a great way to broaden our minds creatively; we see so many new things and meet so many different kinds of people that we can't help but be inspired," Beck said.

The feeling of inspiration was amplified by the amount of support surrounding the project. Students helped make posters for advertisement, matted and prepared the work for hanging, and made food for the November reception. "The higher than expected turnout on opening night was very rewarding. Seeing everyone come together and get excited about the show made the time and energy it took to create worth the effort," noted Anderson and Franceschi. The show soon caught the attention of the Colorado Springs City Council.

CC Art Department Paraprofessional Erin Ravin '08, who acted as a liaison between the students and City Council, said, "The beautiful artwork from the 'Two Years in Seville' show will display nicely in the City Hall space. The drawings not only highlight the quality of work produced during the fantastic educational programs offered by Colorado College, but also demonstrate how CC students take initiative to involve themselves in their community."
The citizen gallery space is located on the second floor of City Hall, 107 N. Nevada Ave., within easy walking distance of Colorado College.