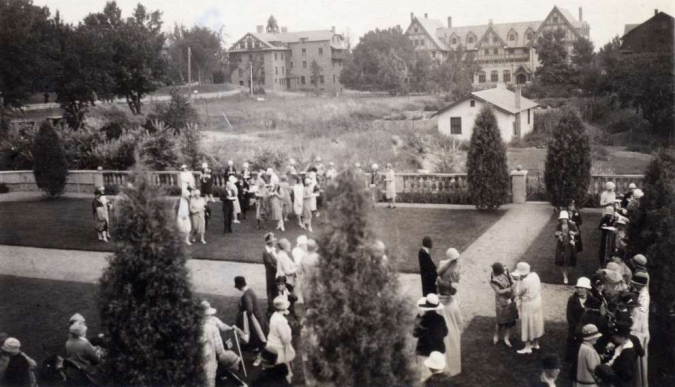 Colorado College's Dodge-Hamlin House has been placed on the State and National Register of Historic Places, becoming the 16th such Colorado College building to earn that designation.
The building, located at 1148 N. Cascade Ave. (formerly addressed as 1122 Wood Ave.) has housed students, faculty, and staff. It was built in 1916 by newspaper publisher and political leader Clarence Phelps Dodge, and acquired by CC in 1943 following the death of its second owner, Clarence C. Hamlin, an influential newspaper publisher and political leader, lawyer, and mining investor.
Today the building is used primarily for housing faculty and staff. The main floor living room serves as a classroom during the day and as a venue for small events and meetings after hours.
The well-preserved building is significant for its historic association with Colorado College, especially the development of CC during World War II and beyond (i.e., 1941-96). The property has served as a sorority house, women's residence, classroom, and faculty housing.

The building also is closely associated with persons prominent in Colorado Springs' history, and is representative of the Mission Revival style, early 20th-century landscape architecture, and the work of Colorado Springs architect Nicolaas van den Arend, who was the architect for Van Briggle Pottery (hence the use of Van Briggle tiles on the outside of the Dodge-Hamlin House).
Set back from Wood Avenue, the landscape at the Dodge-Hamlin House descends at the rear, providing the property with views of college athletic fields, the Van Briggle Pottery building, Monument Valley, and vistas of Pikes Peak and Rampart Range. Architect van den Arend designed the house and its grounds to take full advantage of the setting through the use of lawns and terraces, trees and shrubs, encircling balustrades, stone and stucco walls, stone stairways and seating, porches, windows, and balconies.

CC is committed to the historic preservation and protection of the college's heritage, as well as the protection of the environment and natural resources. The Strategic Plan: Building on the Block sums up this commitment: "To ensure coherence in campus design as related to aesthetics, sustainability, and the educational mission, we will develop a master plan for the physical campus to help guide and shape each new project in the coming decades. Guided by this campus master plan, we will enhance our identity through development of a beautiful, sustainable landscape and built environment that embodies our regional and historical identity and fosters our collaborative approach to teaching, learning, and community building." Read more about the Dodge-Hamlin house.