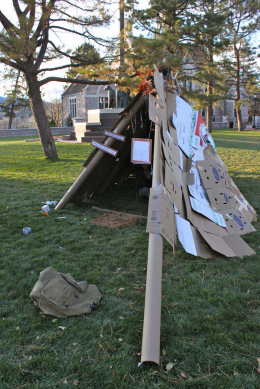 Colorado College sponsored a 12-hour Cardboard City from noon to midnight, Sunday, Nov. 13 to kick off Hunger and Homelessness Awareness Week.
The event, aimed at increasing awareness of hunger and homelessness, featured numerous community members, including Steve Handen, founder of the Marian House Soup Kitchen. It also included live bluegrass music, several short film clips followed by facilitated discussions, and the opportunity to have a meal at the CC Community Kitchen, one of the oldest student-run community kitchens in the country. The kitchen, which serves a hot meal 52 Sundays a year, including summer, winter, and all block breaks, will celebrate its 20th anniversary in April.
"It was a very successful first-time event, and we are eager to see it become tradition in coming years," said Colin McCarey '12, one of the event organizers. Student groups constructed cardboard structures outdoors on the quad, and one of the most creative was a lean-to built by the Integrative Design Club.
Because statistics indicate that nearly 40 percent of the homeless are families, there were also several events for children, including a magician and free arts and crafts activities.
Additionally, several films dealing with hunger and homelessness have been scheduled to air on campus after the event, including "Homeless: The Motel Kids of Orange County," "Colfax Avenue," featuring the individuals who live, work and survive on the longest commercial boulevard in the nation, and "Growing Hope Against Hunger."
The strongest feature of the event was the great amount of collaboration that went into making it happen. We are a community kitchen, and Sunday I felt that to truly be the case," McCarey said.