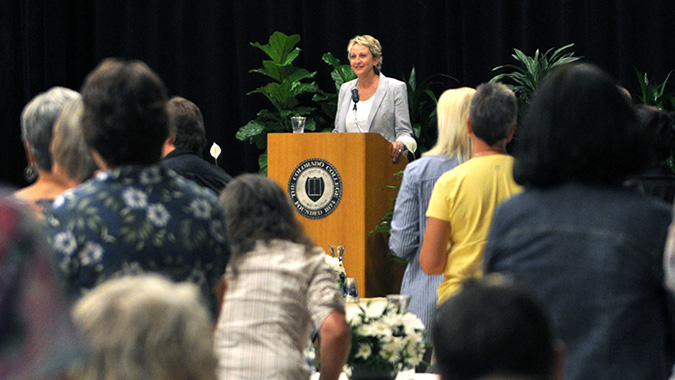 Today is Fall Conference at Colorado College, when the campus community comes together to celebrate who we are and strengthen our ties with one another. President Jill Tiefenthaler will kick off the 2013-14 academic year at today's conference by discussing "Building on the Block," which maps the college's strategic development in the coming years. Building on the Block" is the result of Tiefenthaler's first and second years at CC, known as the Year of Listening and the Year of Planning.

Says Tiefenthaler, "Our strategy is counter-cultural - instead of jumping on the MOOC (Massive Open Online Course) bandwagon, we aim to be SSIP (Selective, Small, Immersive, and Personal. (And yes, we just made that up.)"

Among the top priorities that will shape CC's strategic development in the coming years are:
Providing additional support to realize the potential of our pioneering Block Plan.
Building both a nationally recognized summer program and an inventive half-block program for a new generation of learners.
Creating an innovation institute.
Enhancing our distinctive place of learning -- our campus -- to support our engaged, globally connected academic program and embody our regional and historical identity.
Focusing on workplace excellence to foster an organization that is as innovative and dynamic as the CC academic experience.
In July 2013, the Board of Trustees reviewed and approved the final plan. The participation from students, faculty, staff, alumni, trustees, and community members throughout this process was impressive:
42 initiatives forwarded by committees
1,500 initiatives submitted
37 different committee meetings
133 outreach meetings, including some one-on-one meetings
1,831 people participated in the 133 meetings
892 web responses were received, catalogued, and considered
Total Year of Planning email submissions: 1, 108
Total Year of Planning meeting attendance (Winter Conference, Student
Town Hall, and Outreach meetings): 2,291
Total responses/suggestions/ideas to the Year of Planning (Active
Initiatives, Initiate Something! non-email responses, email responses):
1,493
See the online strategic plan.