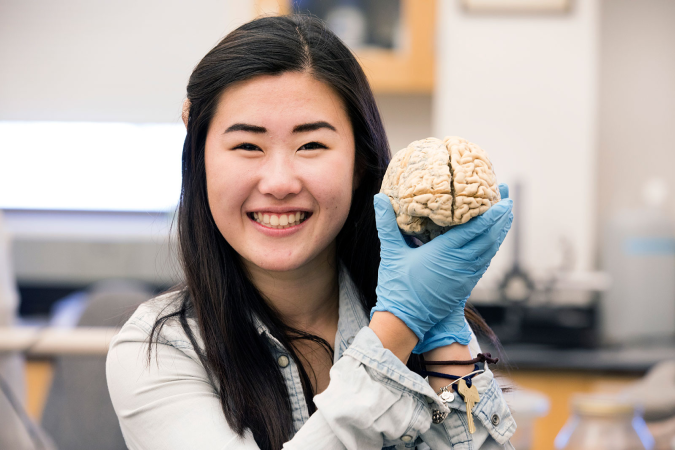 As a high school freshman, Lili Uchida '19 had a snowboarding accident that caused a brain hemorrhage.

"It introduced me to neuroscience, how sensitive the brain is, and how much it does. That's what made me interested in studying neuroscience," she says.

Drawn to CC because of the flexibility of the Block Plan, Uchida found a home in the neuroscience department. At Colorado College, neuroscience is an interdisciplinary major, with required courses in biology, chemistry, mathematics, and psychology.

"It's probably easier to be able to help professors here with their research than it would be at a bigger school where professors don't know you," she says.

In addition to her neuroscience major, Uchida is active across campus. She's a resident assistant at Loomis Hall and a peer mentor in the Career Center. She has participated in CC-sponsored Tiger Treks - city tours featuring alumni and their career paths - in San Francisco and Seattle.

"In San Francisco, when I asked alumni when they got their positions, they said a couple of months after they had graduated. It was reassuring to hear that most people don't know what they're going to do right when they graduate," she says.

Uchida has received the Myrtle M. Bridges Scholarship and the Class of 1979 Scholarship.

"It motivates me to work hard and make sure that I am doing well at CC. I would definitely have to take out a lot of loans if I didn't get those scholarships, so I'm really grateful for them," she says.

Undaunted by her snowboarding accident, a year afterward she began competing internationally in boardercross, a snowboarding contest for four to six competitors on a winding, undulating course that includes jumps. In fact, she's involved with Outdoor Education's Resort Leader Endorsement Training, a program for teaching skiing and snowboarding.

"People who have experience skiing or snowboarding can learn to teach others so that more people can lead intro snowboarding and skiing trips and make the community more inclusive to people who have never had the opportunity to ski or snowboard before," she says.