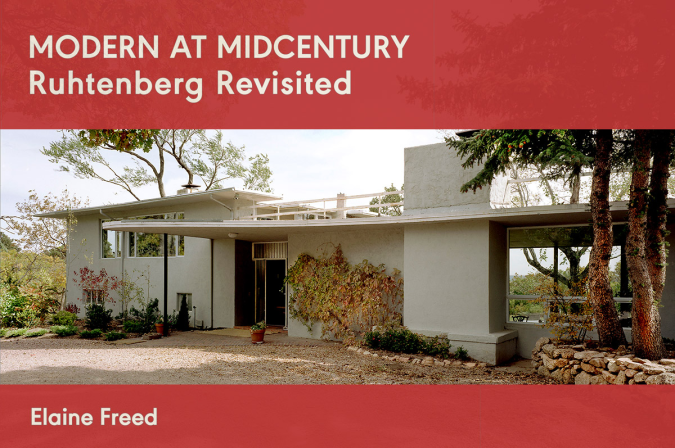 Elaine Freed, former associate vice president for development at Colorado College, has written "Modern at Midcentury: Ruhtenberg Revisited," in which she examines the influences that shaped architect Jan Ruhtenberg and then focuses on five signature houses he designed in the Colorado Springs area. Ruhtenberg, who studied under Mies van der Rohe and was a close friend of Philip Johnson, is credited with making significant contributions in introducing modern architecture to the United States.

"I write for the layman; a general audience," says Freed, who is neither an architect or an architectural historian. An English major with a degree from the University of Minnesota, Freed entered the world of architectural writing via the back door. Or rather, the front gate.

As co-founder of the former Colorado Springs Community School, Freed sought to make history interesting for students. And as a resident of Colorado Springs' Old North End, she frequently took students on walks through the neighborhood to get them to observe the world around them. They quickly noticed that many of the houses had iron fences - and that many of the fences were made by the same local ironworks company. They did further research and Freed eventually wrote an article for a historical trust magazine about the fences and the company that created them.

Freed continued to write articles about historic preservation, and later authored "Preserving The Great Plains and Rocky Mountains," a 10-state survey of historic sites in the American West for the National Trust for Historic Preservation. She also wrote "Modern at Mid-Century: The Early Fifties Houses of Ingraham and Ingraham," which was published by CC's Hulbert Center Press, and was editor of "Architecture as Teacher." Freed served as the executive director of the Frank Lloyd Wright Home and Studio in Oak Park, Illinois, and vice president of the Frank Lloyd Wright Foundation in Spring Green, Wisconsin, and Scottsdale, Arizona.

"Modern at Midcentury," published by Rhyolite Press, helps restore and revitalize Ruhtenberg's legacy. Ruhtenberg has been called a "missing link" in the European movement that helped develop American modern architecture during the mid-century. Freed's book, which is filled with photographs, many by Ron Pollard, helps document interiors that have been significantly remodeled or are no longer in existence.

The five homes Freed highlights are the Ruhtenberg and Fischer houses in the Broadmoor area, the Snyder and Fanoni houses in the Old North End, and the Kane Ranch House near Fountain.

It was Ruhtenberg's earliest work in Colorado Springs that first drew Freed's interest. Julie Penrose, "the best client you can have in this town," says Freed, hired Ruhtenberg in 1939 to design the Carriage House Museum at The Broadmoor. "To begin the project, Ruhtenberg built a model display of the carriages as he wanted them arranged and then designed an open oval-shaped structure around them," writes Freed. She notes that earlier in his career in Berlin and New York, Ruhtenberg would have seen Mies van der Rohe, Lilly Reich, or Philip Johnson approach an exhibition installation in the same way, blending practicality with showmanship.
The Carriage House Museum, which no longer stands, marked the beginning of Ruhtenberg's nearly 25-year practice in Colorado Springs. St. Mary's High School still stands, as does his office and studio building, as well as many of his houses, although many have been remodeled. Four of the houses he designed are on the National Register of Historic Places in a newly designated addition to the Old North End Historic District.
Design magazines and the popular press in Europe and America celebrated Ruhtenberg's designs at midcentury, with his work appearing in Progressive Architecture and Architectural Form, and in Time, Life, and Fortune magazines.
Book signing information:
Elaine Freed will sign copies of "Modern at Midcentury: Ruhtenberg Revisited" from noon to 3 p.m. on Saturday, April 1 at Hooked On Books, 12 E. Bijou St., in Colorado Springs.