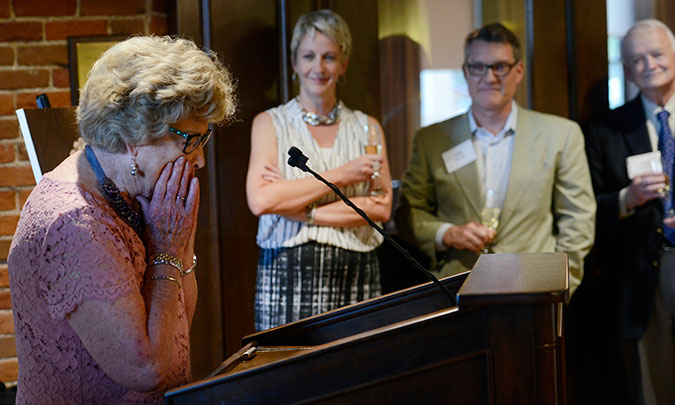 Nearly 60 people gathered at Colorado College to celebrate an alumna, Barbara Yalich '53, with the dedication and naming of a boardroom in the Spencer Center in her honor.
The Barbara L. Yalich Class of 1953 Boardroom, located on the ground floor of the newly renovated Spencer Center, 830 N. Tejon St., was dedicated at a ceremony on Wednesday, Sept. 9.
Yalich attended CC for one year, 1949-50, before leaving to marry Milo "Mike" Yalich '50, a WWII veteran and 1950 NCAA hockey champion. She became a lifelong sports fan, active community member, and launched a career in public service and higher education that lasts to this day.
Yalich served as an alumni trustee from 1971-73; director of alumni support from 1973-75; director of alumni affairs from 1975-85; director of development 1985-91; and vice president for development and college relations from 1991-94. Today, she serves as the civic leader for Innovations in Aging Collaborative, a local grassroots effort she helped found in 2010 to connect the local aging population with resources and opportunities across the Pikes Peak region.
Read more about Barbara Yalich and send her best wishes here.