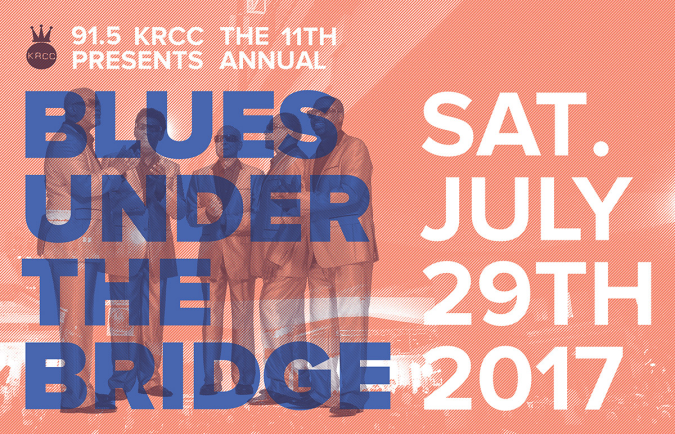 The 11th annual Blues Under the Bridge, designated a signature event by the Colorado Springs Downtown Development Authority, kicks off at 1:30 p.m. Saturday, July 29. Gates to the day-long music festival, held under the bridge at 218 W. Colorado Ave., open at 1 p.m.
Headlining this year's event is Blind Boys of Alabama, whose 70-year recording career includes five Grammy Awards (plus one for Lifetime Achievement), entrance to the Gospel Music Hall of Fame, and performances on the world's most prestigious stages and collaborations with musicians ranging from Mavis Staples and Stevie Wonder to Prince and Lou Reed.
Other featured artists include Mike Clark and Sugar Sounds, Erica Brown with the Movers and Shakers, Big Jon Atkinson and Bob Corritore, and The Paladins. Jeff Bieri, 91.5 KRCC's program manager, discusses this year's festival line-up and offers some history behind the bands on the station's show, "Air Check."
The premier blues music festival, which attracts fans from all over Colorado and the greater Southwest area, is a production of 91.5 KRCC, Colorado College's NPR-member station. The event also includes a series of pre-festival concerts at 7 p.m., July 26-28. They are:
Wednesday, July 26: Jeremy Vasquez & The Survivors, Ivywild Gym, 1604 S. Cascade Ave.
Thursday, July 27: The Paladins, The Gold Room, 18 S. Nevada Ave.
Friday, July 28: Bob Corritore, The Gold Room, 18 S. Nevada Ave.
Blues Under the Bridge schedule:
Ticket information:
V.I.P. tickets, which include reserved seating, free parking (limited and first-come-first-served) a T-shirt, drink ticket and a Whole Foods meal ticket, are $91.50.
General admission tickets are $50 and may be purchased online and at Bristol Brewing Company 1604 S Cascade Ave. Children under 12 admitted free with an accompanying adult.
Tickets for 91.5 KRCC members are $40; member tickets must be purchased in person at the 91.5 KRCC office at 912. N. Weber St.
Pikes Peak Blues Community member discount tickets available through the Pike Peak Blues Community organization.
Tickets at the gate the day of the event are $60, with cash or credit cards accepted.
Complete information is available online. Note that there is a major change in the entry gates this year. There is no East gate off the Colorado Avenue Bridge as there has been previously. This is now an exit only.