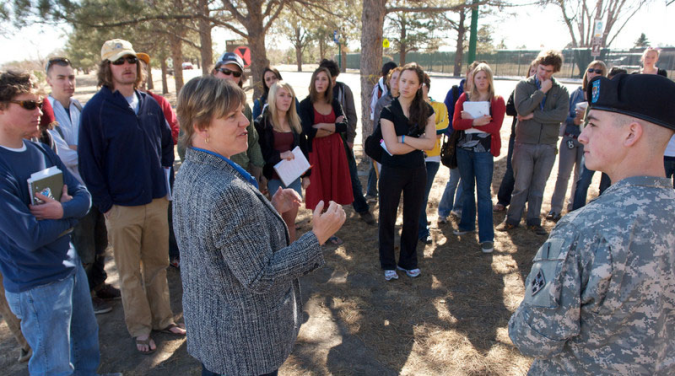 When two professors and 10 Colorado College students went to Fort Carson to interview soldiers back from a second hard tour in Iraq in 2008, they focused on how stigma tied to unseen wounds such as PTSD might be preventing soldiers from seeking help. When it turned out that numerous soldiers from the same unit were implicated in local murders, the national spotlight turned to the unit. A new book, "Beyond Post-Traumatic Stress: Homefront Struggles with the Wars on Terror," co-authored by Sarah Hautzinger, associate professor of anthropology at Colorado College, and her colleague Jean Scandlyn, research associate professor of health and behavioral sciences and anthropology at the University of Colorado Denver, recounts the five years of fieldwork that ensued, expanded to chronicle the effects of multiple deployments on soldiers, their families, and surrounding communities.

The authors call for expanded efforts to confront war's costs for combat veterans and their communities alike, arguing that medical treatment for the effects of deployment-based stress and trauma is a necessary but, in itself, insufficient response. In their book, Hautzinger and Scandlyn "lift off layers of cultural practice - social rank, stigma, and studied silence - that inhibit individual and collective healing from war's injuries," writes anthropologist Monica Schoch-Spana in reviewing the book. They "prod public discourse into the essential but uncomfortable questions of what all of us actually pay in exchange for war and the pursuit of a narrowly defined 'security,'" she writes.

The book is organized into three parts: The first focuses on soldiers and the reasons they might resist acknowledging or seeking treatment for PTSD, on why the diagnosis is so controversial, and on the military's efforts to overcome the stigma associated with asking for help. The second part explores the broader community, looking at unpaid but weighty spousal volunteer work, and at programs for treatment and reintegration available within the community. Hautzinger notes that, for many soldiers, coming back from war extends well beyond treatment, and can include connecting to one's community or developing a new direction in life.

The third part of the book focuses on the gulf between military and civilian populations. Less than 1 percent of the general U.S. population serves in the military, and perceptions build up on both sides that can hinder dialogue, the authors say. The authors explore places in the community where people have tried to connect and create dialogue, and continue to be involved in outreach and dialogue efforts with community partners in Colorado Springs, at UCCS, and UC Denver. Led by Hautzinger and Scandlyn, more than 25 students have participated in the research project.