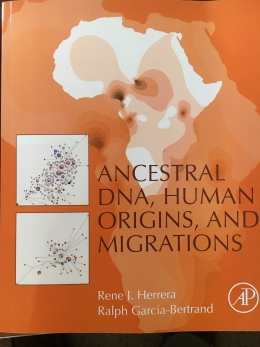 Colorado College Professor of Biology Ralph Bertrand and CC Visiting Scholar Rene Herrera have recently published "Ancestral DNA, Human Origins, and Migrations." The book, published by Academic Press, describes the genesis of humans in Africa and the subsequent story of human migration from Africa to all corners of the globe.
Bertrand, the Verner Z. Reed Professor and Chair of the Molecular Biology Department, and Herrera, formerly a professor in the Department of Molecular and Human Genetics at Florida International University Medical School, present different phases of the journey in an integrative format.
Their unique approach incorporates information from a number of disciplines, including population genetics, evolution, anthropology, archaeology, climatology, linguistics, art, music, folklore, and history. The book weaves a story that is clear and offers a level of understanding that will appeal to those researching, studying, and interested in population genetics, evolutionary biology, human migrations, and the beginnings of the human species.

Bertrand, who joined the Colorado College faculty in 1991, teaches courses in human evolution, genetics, molecular and cellular biology, among others. Herrera has taught courses in microbiology, human physiology, population genetics and medical genetics, among others.