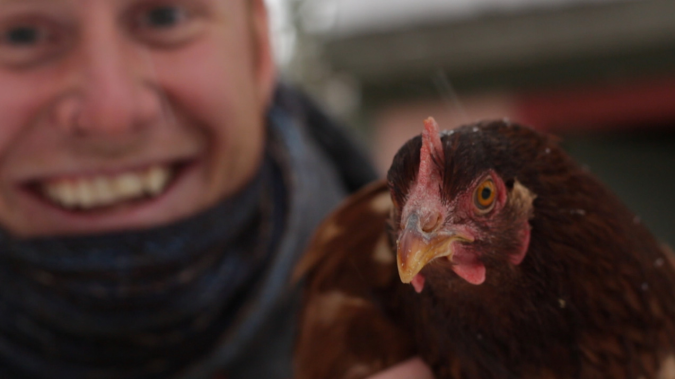 For the third consecutive year, Colorado College's holiday video was produced Arielle Mari '12, CC's video and digital media specialist. The video features four people - students Stanley Carson '15 and Michelle Cordell '16, alumna Maro Zagoras '89, and History Professor Tip Ragan, reflecting on the sense of community and belonging at CC.

The 3:23-minute video, which Mari calls "a celebration of CC as a school," is a departure from the more experimental videos of the past (the sound-driven "Favorite Things" video in 2012 and a visual rendering of a poem in 2013). "This straight documentary is out of the ordinary for us," she said. "But I thought it was important for people to speak in their own words. That's where we are now in the school, and it's authentic."
Cordell, an economics major from Olympia, Wash., said the topic of finding a place at CC appealed to her.

"During the video and these weeks afterward I have appreciated how much CC has inspired me and opened my horizons to issues I didn't care about before. In the process of choosing CC to now being a junior, my interests and identity have evolved pretty dramatically," Cordell said. "This helped me remember what I expected my interests would be and how wonderfully different the reality is. That being said, I think it also made me realize how much energy it took on my part to use the various resources and opportunities that make CC as valuable to me as it is. Finding my place at CC was a lot of work, but well worth it."
Being in the video was "a very reflective exercise," said Carson, a Romance Languages major from Waynesville, N.C. "I'm a senior and it caused me to reflect on what these past years have meant for me. I felt happy and thankful, but also a bit scared and anxious about getting ready to leave this all behind in the coming months.
"This is where my life is," Carson said. "I don't live in North Carolina anymore. When people ask me where I am from when I am abroad or in other parts of the country, I say Colorado Springs. Although it is difficult now that the end is approaching and my thoughts are wandering toward what lies beyond CC, my last three years were characterized by a presentness of life here. My friends here are my day-to-day family, my house is my home, and school is my work."
Mari said the production process always poses challenges, but when she was working on this year's video she said to herself, "I have something here."