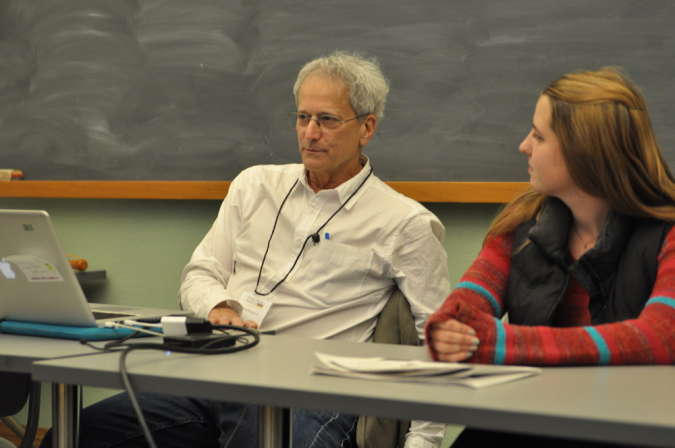 Renowned photojournalist David Burnett '68 has a simple piece of advice for photojournalists: "Look away from where everyone else is looking - don't take the photo everyone else is."

In a mesmerizing talk and slideshow for journalism students during Homecoming Weekend, Burnett showed how he had done exactly that, from freelancing in Vietnam during the war there, to covering the immediate aftermath of the military coup in Chile that overthrew its elected president, to documenting the 1984 Olympics, among many other assignments.

In Vietnam, where he worked from 1970 to 1972, he benefited from the advice of Philip Jones Griffiths, the great Welsh photographer: "Put 50 rolls in your rucksack, fly up to Da Nang and don't come back until you've shot every roll."

Today, even with digital equipment, this is good advice when you feel discouraged or unsure, Burnett said. "Put your phone in your pocket and just go out and start shooting. Immerse yourself that way - understand what your story is all about."

In Santiago, Chile, he was with the first wave of international journalists to document the brutal crackdown after the 1973 coup. In fact, his college-student appearance - wild, dark curly hair and beard, jeans and wire-rimmed glasses - may have led to his brief detention at gunpoint in a hallway of the national soccer stadium, where he and another foreign journalist listened to the screams of people being tortured and beaten.

Still, he made what became an iconic photo of the times: a young man under arrest, staring grimly at the camera, surrounded by soldiers. The man became known as "the man in the photo" in Chile and elsewhere. "The picture got huge play in Europe," Burnett said. "It summed up the coup."

The young man in the photo was released after seven weeks, rather than killed, and Burnett says he'll never know if the photo saved his life.

In the 1984 Olympics, Burnett avoided the finish line and trained his camera on the women running the 3000-meter final, just in time to take a photo of the American runner Mary Decker, face contorted in pain, after a collision with South African Zola Budd. It became one of his most widely reproduced photos.

"That kind of thing forms you as a photographer, just being a witness," Burnett said. He urged students to understand the ways photography made a difference in the past, and yet take advantage of new forms and new methods. "You have to figure out new ways to do things," he said. "There are so many things to see."

Burnett's journalism workshop is one of several planned for the academic year. Next: Filmmaker Mike Shum '07 will talk to journalism students in Block 3 about the documentary he's making of the life of the photojournalist Chris Hondros, who was killed covering the uprising in Misrata, Libya, in 2011.