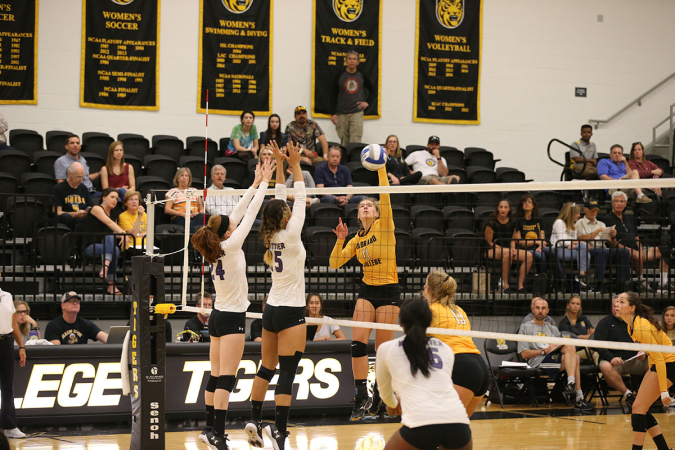 Junior right side hitter Aria Dudley was named the Sports Imports/AVCA Division III National Player of the Week for her dominating performance during last weekend's Southern Collegiate Athletic Conference cross-divisional matches at Centenary College.
Dudley, who also was named an SCAC Player of the Week for the third time this season, led the Tigers to a 4-0 record, including victories over No. 3 Southwestern University and No. 5 Trinity University on Saturday.
Coupled with wins over Texas Lutheran and Schreiner on Sunday, the Tigers improved to 26-1 overall and 14-0 in the SCAC, and finished the regular season with an unblemished regular-season record in league play for the second time in program history.
For the week, Dudley posted a combined .447 hitting percentage with 44 kills on 85 swings with only six errors. She averaged 3.24 kills, 1.0 digs and 0.57 blocks per set.
"Aria has been a steady force for us on the right side all year," head coach Rick Swan said. "She's been our go-to player when we need a kill in a big moment and one of our most consistent hitters at all times."
Dudley, the reigning SCAC Defensive Player of the Week, led CC's balanced attack with a career-high 15 kills in the 25-22, 25-21, 17-25, 25-22, 15-10 win over Southwestern. She hit a match-high .394 with only two errors on 33 attacks.
In the 25-19, 25-14, 25-19 sweep of Trinity that clinched the outright conference title, Dudley recorded six kills, hit .385 and had four block assists.
Those victories were Colorado College's fourth and fifth of the season over opponents ranked in the top-five of the AVCA poll.
During Sunday's 25-14, 25-18, 25-22 win over TLU, which is fourth in the SCAC standings, Dudley led the Tigers with a .588 attack percentage and had 10 kills with no errors on 17 swings.
She finished the weekend with a match-high 13 kills while hitting .500 in the 25-16, 25-12, 25-17 thumping of Schreiner.
Dudley joins current teammate and two-time recipient Lizzy Counts (2016, 2017), Meredith Ballard (2008) and Sarah Boyles (2001) as the only CC players to earn the award since its inception in 1998.
Colorado College wraps up the regular season next week with its final home tournament of the year. The Tigers play host to Cornell College on Friday at 5 p.m., and then Johnson and Wales University and Howard Payne University on Saturday at noon and 4 p.m., respectively.