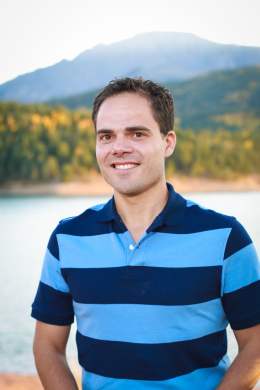 Colorado College Associate Professor of Spanish Daniel Arroyo-Rodríguez has been named the recipient of the 2018 Delta Gamma Foundation Outstanding Faculty Award, and will be recognized by the foundation on June 29 in Phoenix.
"The award is especially meaningful for me because CC students nominated me for it," says Arroyo-Rodríguez. "My students inspire me every day through the excitement and hard work that they put into learning Spanish language and literature. That makes every day special."
He was nominated by Jennifer Roca '18, Sabre Morris '18, Sierra Polston, '18, Lauren Stierman '20, and Elizabeth Baker '17, currently the paraprofessional in the Department of Anthropology.
A native of Spain, Arroyo-Rodríguez earned his B.A. in English philology in 2000 from the Universidad de Sevilla and his Ph.D. in Spanish literature in 2010 from the University of Michigan, joining the CC faculty that same year.
Arroyo-Rodríguez is the current recipient of CC's Ray O. Werner Award for Exemplary Teaching in the Liberal Arts, which has allowed him to travel to California, Spain, and Israel, where he continues research in Sephardic literature and in Catalonian language, literature, and culture.
His research interests are 19th- 20th- 21st-century Spanish peninsular literature and culture; literary theory; war memory, literature, and film; Spanish peripheral nationalisms; literature and exile; and avant-garde literature.
The Delta Gamma Foundation, based in Columbus, Ohio, seeks to advance the values of Delta Gamma Fraternity by providing professional expertise, purpose-driven support and passionate commitment to members, friends and colleagues in the interest of "doing good."