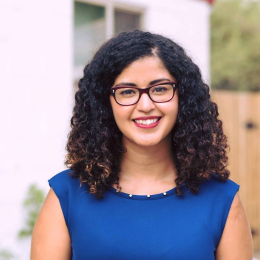 Colorado College alumna Angela Cobian '11, won a seat on the Denver School Board in the Nov. 7 election.

Cobian was a young alumni trustee on CC's Board of Trustees, president of the Colorado College Student Government Association, and the recipient of a 2013-14 Fulbright.
During her Fulbright year, she served as a teaching assistant at a university in Mexico. In a 2013 interview Cobian, who was a political science major with a concentration in political theory and comparative politics of Latin America and a Spanish minor, said she selected Mexico for a variety of reasons. "My parents are Mexican immigrants, and I've never experienced what it's like to be a Mexican in Mexico. I did my best to study its history, politics, philosophy, and language at Colorado College. This is an opportunity to explore my Mexican heritage in an academic context."
Following graduation, Cobian worked for Teach for America as a second- and third-grade teacher in an English-language acquisition-Spanish classroom at Cole Arts and Sciences Academy in Denver Public Schools. She earned a master's degree in Curriculum and Instruction, with an emphasis on linguistically diverse education.