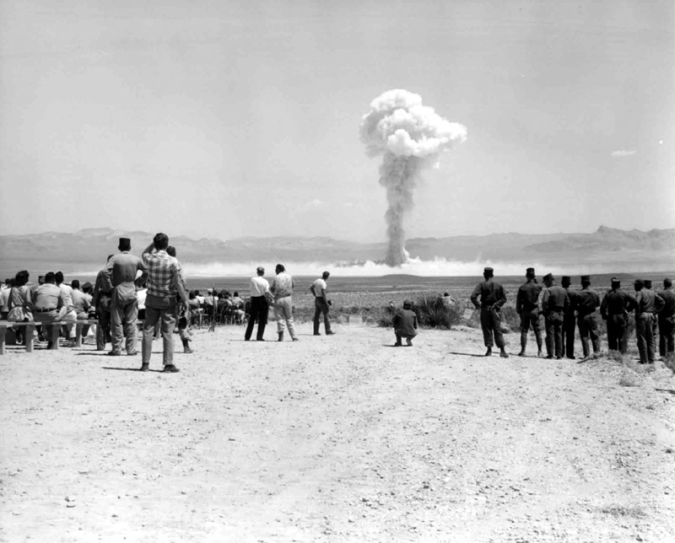 A class taught by Amy Kohout, assistant professor of history, is now available for viewing as part of C-SPAN's "Lectures in American History" series. The series allows viewers to join students in classrooms across the country to hear lectures on topics ranging from the American Revolution to 9-11 to nuclear weapons testing in the continental U.S, a topic covered in Kohout's American Environmental History course.
A crew was on the Colorado College campus in December filming the class in Palmer Hall. The resulting show, "Nuclear Weapons Testing and the Environment," aired April 17 on C-SPAN3.
"This was a wonderful opportunity for us to invite C-SPAN3 viewers into a CC classroom, and I was really proud of the way this group of students modeled what I see every day: their commitment to reading and talking with each other to make sense of key texts and themes," says Kohout.
The 57-minute segment, filmed Dec. 12, covers the class discussion on nuclear weapons testing in the United States in the 1950s and '60s and how it impacted the environment. Kohout includes topics such as scientific tests to measure the impact on humans, protests against nuclear testing, and current debates over where to store nuclear waste.
"I appreciated the chance to share the field of environmental history with a wider audience," says Kohout. "I didn't encounter this approach to historical study until my own college experience, and I think especially now, it is important to grapple with environmental questions. In this particular lecture, we examined a citizen science project focused on baby teeth donated by the children of St. Louis, activism surrounding the politics of nuclear testing, and contemporary debates about risk, exposure, and the management of nuclear waste."
Two students in the class, Beck Brooks '18 and Noah Gaby '19, both commented on the fact that the show allows their grandparents a peek into a CC classroom. "This is how a CC class functions; it's small discussion-based," says Brooks. "It highlights the Block Plan with in-depth analysis and discussion across all aspects."
Kohout describes the course, cross-listed in the History Department and Environmental Program, as "an introduction to environmental history, which, in its broadest sense, is the study of people and the world around them. The American Environmental History course explores debates over what nature is, who it is for, and how it should be used - from the colonial period to the present."
C-SPAN3 also podcasts the series; additionally they available on iTunes, Spotify, Stitcher, etc. Those who don't get C-SPAN3 can log in with their TV provider credentials (cable, satellite, telco) and watch C-SPAN3 stream live.