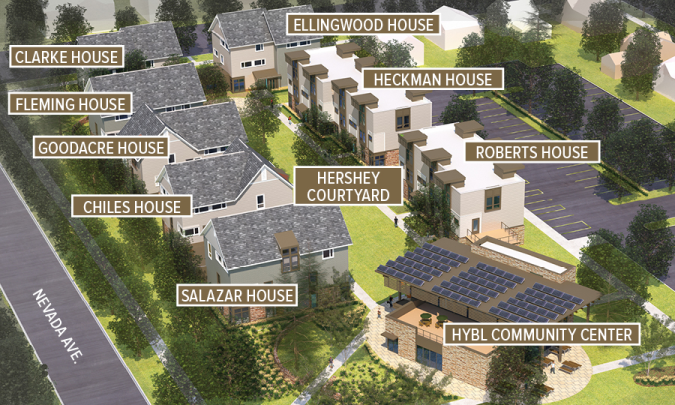 The new community center and courtyard at Colorado College's East Campus Housing Community will bear the names of two prominent CC alumni.
The Hybl Community Center is named in honor of William J. Hybl '64, P'91, and the Hershey Courtyard is named in honor of Laura Ann Hershey '83. The eight residence halls at the East Campus Housing Community, home to 154 juniors and seniors, also are named in honor of prominent former Colorado College students. The nearly 7,000-square-foot Hybl Community Center, located on the south end of the new East Campus Housing Community, features a 1,700-square-foot common room, second-floor terrace facing Pikes Peak, 16.8-kilowatt solar array, laundry facilities, classroom, and office for a residential life staff member.
The Hershey Courtyard, in the center of the housing community and accessed by all eight residence halls and the community center, features a large, open green space, outdoor communal grill, plenty of bike racks, and seating areas.
Hybl, chairman and chief executive officer of El Pomar Foundation, is one of the nation's premier advocates for and examples of public service. After earning a degree in political science from Colorado College, he went on to earn his J.D. at the University of Colorado Law School and served two years in the U.S. Army before returning to Colorado in 1969.
Hybl's distinguished career in public service spans more than four decades of local, national, and international involvement. In 2008, Hybl was confirmed by the United States Senate as chairman of the U.S. Commission on Public Diplomacy, a position he was appointed to by President George W. Bush. He was reappointed by President Barack Obama in 2011 and currently serves as vice chairman.
In 2001, President George W. Bush appointed Hybl as U.S. Representative to the 56th General Assembly of the United Nations. In addition, Hybl was chairman of the Board of the International Foundation for Electoral Systems (IFES) from 2003-2009 and currently serves as chairman emeritus. He is chairman of the United States Olympic Endowment having served as president during four Olympic Games. He was the recipient of CC's Lloyd E. Worner Award in 2005.
Hershey was a renowned disability-rights activist, writer, and poet, who was diagnosed with a rare form of muscular dystrophy at age 2.
She earned a B.A. in history from Colorado College and master's in creative writing from Antioch University. Much of her work focused on the struggle to maintain personal dignity in a world inclined to view individuals with disabilities with pity. A prolific writer, one of her best-known works is a poem titled "You Get Proud by Practicing." Her poetry remains vital across the disability rights movement.

Hershey's activism shaped her entire life, and she played a vital role in securing disability access to academic and administrative buildings on campus. One of the most prominent voices of the disability rights movement, Hershey was awarded an honorary doctorate of humane letters from Colorado College in 1992. She died in 2010 at age 48.
Other CC honorees at the East Campus Housing Community, located on the southeast corner of Uintah Street and Nevada Avenue, include Marcellus H. Chiles, a student at the college when World War I began; Marian Williams Clarke 1902; Albert R. Ellingwood 1910; Peggy Gale Fleming '70; Glenna Maxey Goodacre '61; James Joseph Heckman '65; Frederick M. Roberts 1906; and Ken Salazar '77. (Read more about them.)