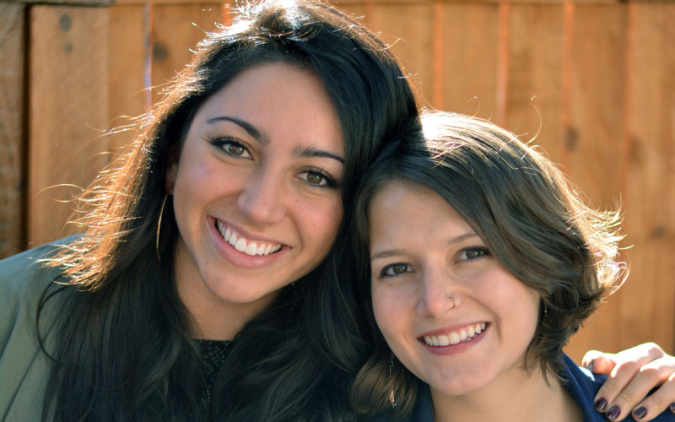 By Laurie Laker '12

Mitra Ghaffari '17 and Evyn Papworth '18 were named Davis Projects for Peace grant recipients for 2018. They plan to use the $10,000 grant to develop an outdoor community center in Los Pocitos, a community of about 4,000 people, near Havana, Cuba. Their joint proposal addresses issues of marginalization and socioeconomic disparity across the community, working in collaboration with the leaders of Akokán, a local initiative for social change, to construct the center at the heart of the community.
With an aim to foster peace through creative and cultural exchange, the outdoor community center will be comprised of a classroom, amphitheater, and garden. The goals of the space are to centralize and strengthen community participation, develop and expand educational workshops for youth, and systematize restorative actions through sustainable community engagement projects.
Papworth, a political science major from Fort Collins, Colorado, and Ghaffari, an independently designed major who focused on intercultural communication from Boulder, Colorado, met in Cuba in 2017.

"I met Professor Michael Sanchez Torres during my studies at the University of Havana, who introduced me to the Akokán initiative and gave me the opportunity to lead the first Akokán workshops over the course of seven months," says Ghaffari.
Supporting her time in Cuba, Ghaffari received a Keller Family Venture Grant to help fund workshops and restorative projects, incorporating the other CC students studying abroad in Havana, including Papworth, into the community work. They've been connected to the community in Havana and project collaborators ever since.
"We're conscious of our presence in the community as Americans, particularly given the history between the U.S. and Cuba, so we're trying to head off issues as early as possible," says Papworth.

Now in its 11th year, the Davis Projects for Peace program invites undergraduates at American colleges and universities in the Davis United World College Scholars Program to design grassroots projects, with an objective to encourage and support motivated youth to create and try out their ideas for building peace.

Ghaffari acknowledges that not many foreigners have the opportunity to work directly with Cubans and she says their project would not be possible without ongoing involvement from the community and Akokán project coordinators.
"We want this to be a launching pad for U.S. and Cuban collaborations in the future, and collaboration of this sort is vital to ensure continued service, exposure, and engagement," she says.