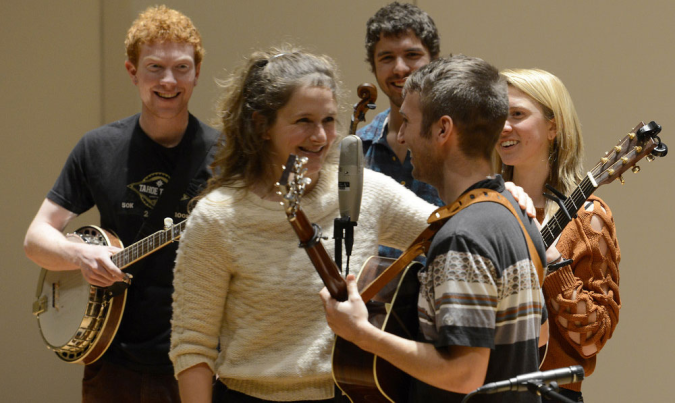 "Béla Fleck and Abigail Washburn," the first album released by the husband-and-wife team as a duo, is the winner of the 2016 Grammy Award for Best Folk Album. It is the first Grammy win for Washburn, who graduated as Colorado College's first East Asian Studies major and was the 2012 Commencement speaker.
Banjo superstars Washburn and Fleck spent three days at Colorado College earlier this month where they held a master workshop for students in CC's most advanced bluegrass ensemble, performed at a sold-out concert in Kathryn Mohrman Theatre, and sat down for an interview with "Critical Karaoke" hosts Steven Hayward, Ryan Banagale, and Idris Goodwin, all CC faculty members.
"Critical Karaoke Episode 11: Arranging Béla Fleck and Abigail Washburn" focuses on the subject of arrangements-musical, personal, and otherwise. The episode, which can be heard on KRCC, Colorado College's NPR-member station, covers a range of topics, from collaboration on their self-titled duet album to ambassadorship and humanitarian work to raising a child together.
"Abby is a shining example of what one can do with a liberal arts degree," says "Critical Karaoke" co-host and Assistant Professor of Music Bañagale '00. "Not only in the diverse ways that she approaches music, but also in the world - a musical humanitarian. I'm honored to have had the chance to sit down and talk with her and Béla and sit right next to them as they played their incredible music together."

Washburn and Fleck began trading banjo riffs in 2005, when both joined the folk band Sparrow Quartet. Now, after a decade of shared gigs and marriage, the two are one of the most sought-after acts on the circuit. Fleck is the premiere banjo player in the world, holding more Grammy Awards (now 16 in total) and nominations in more categories than any other musician, while Washburn is a singing (often in Mandarin Chinese), songwriting, claw hammer banjo player.
Washburn's music is inspired by her deep interest in Chinese language and culture. In it, she explores the intersections of American and Chinese music, creating a unique fusion of American roots and Chinese folk music. As a 2012 TED Fellow, Washburn inspired countless listeners in describing the many detours she undertook from her initial post-graduation plan to study law in Beijing and improve America-China relations. As she herself notes, she has most likely contributed more to America-China relations as a musician and cultural ambassador than she would have as an attorney.