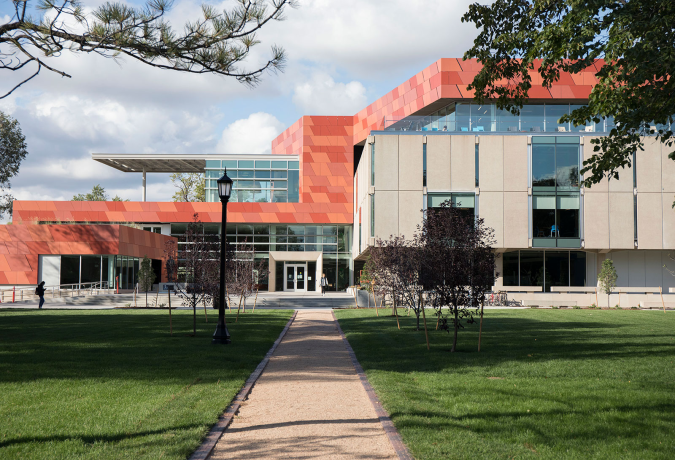 Renowned Irish author Colum McCann helped set the tone for the newly re-opened and renovated Charles L. Tutt Library and the beginning of the 2017-18 academic year during his keynote address, titled "The Radical Adventure of Getting Lost," at Colorado College's Opening Convocation on Monday, Aug. 28.

McCann asked students to consider a life where one values "how to get properly lost" as he reminded them that "books, and this incredible new library you have been gifted … [are] possibly the most radical adventure in getting lost that we can experience in our whole lives."

The $45 million renovation, made possible in large part due to more than $20 million in gifts from alumni, parents, and friends of the college. In order to work with the unique rhythm of the Block Plan, the renovation also doubles the number of seats to nearly 1,100 and adds approximately 25,000 additional square feet to the building. Parts of the building also are accessible 24 hours a day to accommodate students during peak times on the block.

The renovation allows the building, which was constructed in 1962, to become the largest academic library to achieve net-zero energy usage. A geothermal energy field on Armstrong Quad, a 115-kilowatt rooftop solar array, a 400-kilowatt offsite solar array, and a 130-kilowatt combined heat and power system are all part of the renovation. The library recently received one of three 2017 Innovation Awards from the National Association of College and University Business Officers.

The library has been technologically transformed, with a data visualization lab, a space for new and emerging technology, a geospatial information systems laboratory, and an experimental classroom equipped with teaching technology. Advanced audiovisual and technology-centric systems including wireless accessibility meet current and anticipated future demands. Faculty and students will be able to access collections and information, and communicate with each other, even while off campus during the college's signature field study and study abroad experiences.

"In 2013, when the Board of Trustees approved the 'Building on the Block' strategic plan, [renovating our library] was among our top priorities," Board of Trustees Chair Susie Burghart '77 says. "And in the four years since, the progress - and now the completion of this project - has been absolutely amazing."