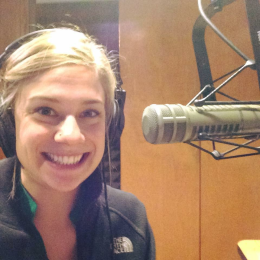 Abigail Beckman has joined 91.5 KRCC, Colorado College's NPR-member station, as its new "Morning Edition" host. She also will work as a reporter in the newsroom.
The move allows 91.5 KRCC's current "Morning Edition" host, Andrea Chalfin, to focus on overseeing the newsroom in her capacity as managing editor, as well as to produce stories.
Beckman is a Colorado native, and comes to 91.5 KRCC from Kansas, where she worked as a reporter at KMUW, the public radio station for Wichita.
"The opportunity to have a job I love in my home state feels like a dream come true," says Beckman. "Kansas has been my home for the past 10 years and it has a special place in my heart, but the mountains will always be where I belong."
Her work has been heard on NPR's "Morning Edition," "Weekend Edition Sunday" and "All Things Considered." Additionally, Beckman has produced stories for Harvest Public Media, among other outlets. In 2015, Beckman produced a radio documentary called "The Pieces that Remain: Remembering the Wichita State University Plane Crash," which garnered a Gracie Award from the Alliance for Women in Media and a regional Edward R. Murrow Award.
She has a Master's degree in Communication from Wichita State University and undergraduate degrees in journalism and Spanish.