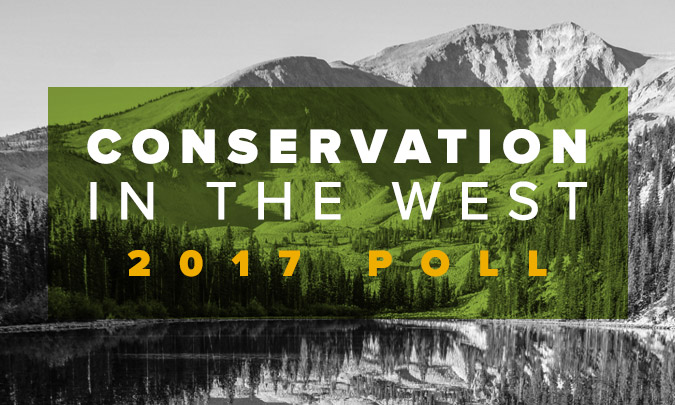 Voters in the Mountain West have weighed in on their priorities for managing the use and protection of national public lands in a poll conducted by Colorado College's State of the Rockies Project.
The 2017 Conservation in the West Poll, now in its seventh year, surveyed voters in seven Mountain West states on some of the most pressing issues involving public lands, including conservation, energy, economic trade-offs, public priorities, environmental concerns, and the role of government.

Colorado College Professor Emeritus of Economics Walt Hecox, founder of the State of the Rockies Project, notes that "As leadership changes hands in Washington D.C., and Congress votes in new budget rules removing any monetary value from public lands, voters in the Mountain West are sending a clear statement that they do not want to see a dramatic change of course when it comes to national public lands."
Looking to potential actions the new administration might undertake on public lands, respondents prioritized efforts that improve access, support the outdoor recreation economy, and invest in renewable energy. Drilling for oil and gas or mining for coal on public lands was less popular with voters.
The bipartisan poll, which already is garnering national media attention, was conducted in late December and early January and surveyed 400 registered voters in each of the seven Mountain West states: Arizona, Colorado, Montana, Nevada, New Mexico, Utah, and Wyoming.
The poll was conducted by Republican pollster Lori Weigel of Public Opinion Strategies, and Democratic pollster Dave Metz of Fairbank, Maslin, Maullin, Metz & Associates. It has a margin of error of +/-2.74 percent nationwide and +/ -4.9 percent statewide.
Colorado College's State of the Rockies Project, now in its 14th year, also hosts a Speaker Series. The next speaker is Barbara Cosens, professor and associate dean of faculty at University of Idaho College of Law, who will discuss "International Water Law and Indigenous Water Justice: Through the lens of the Columbia River Treaty Review" at 7 p.m., Monday, Feb. 27 in Gaylord Hall in the Worner Campus Center.