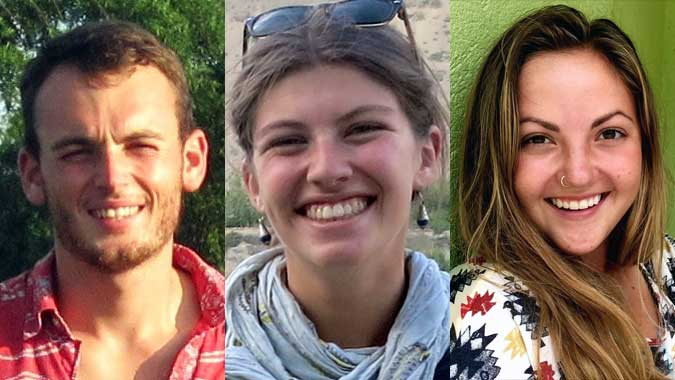 James Daudon '16, Anna Kelly '16, and Lauren Schmidt '16 have been named Davis Project for Peace award winners for their proposal, "A Generation for Peace: Creating Opportunities for Nepali-Tibetan Youth Engagement." The three Colorado College students will use the $10,000 grant to develop an after-school extracurricular program in Nepal that serves both Tibetan and Nepali children, with the goal of promoting meaningful connections between Tibetan and Nepali children to generate lasting peace.
In their proposal, the trio notes that although the roots of the strained Tibetan-Nepali relations run deep, the tendency toward alienation is not fully ingrained in the younger populations, the population they seek to work with.
Daudon, Kelly, and Schmidt will partner with the Dolma Foundation and will implement an after-school program at The Highland Boarding School. The school's headmaster has said there is an extreme need for extracurricular programs, but lack of funding and experienced staff has kept them from creating their own program. Among the activities planned are soccer tournaments, art shows, volleyball tournaments, dances and skits, cooking classes, and earthquake safety classes.
The CC students say their combined experience allows for the effective and culturally sensitive implementation of the program. The three spent the summer of 2014 in the Annapurna region of Nepal. While there, Kelly, a politcial science major and fine arts minor, studied the preservation and restoration of 14th-century monastic Tibetan art. She conducted an internship with the de Young Museum of Art in San Francisco where she created an art curriculum and taught 5- to 12-year-olds.
Schmidt, who graduated cum laude with a degree in international political economy and was awarded a Princeton in Africa fellowship this year, has extensive experience working with forced migrant populations. She has facilitated community-building programs for South Sudanese refugees with the Red Cross Society, worked with Syrian refugees on improving asylum policies in Turkey, and investigated the consequences of outmigration for Tibetan refugees in Nepal. Schmidt also has 15 years experience in performing arts and has taught numerous art, dance, and activity camps for children.

Daudon, who graduated magna cum laude with an independently designed major in philosophy, politics, and economics, founded and runs a Seattle-based sports and games camp for children ages 7 to 12. The camp has provided day and overnight sessions since 2011. While in Nepal, Daudon studied the political role of local village development committees in the Annapurna region and conducted impact assessments for the Living Earth Institute in the Tarai Plains.
Now in its ninth year, the Projects for Peace program invites undergraduates at American colleges and universities in the Davis United World College Scholars Program to design grassroots projects, with funding awarded to the projects deemed the most promising and feasible. The objective is to encourage and support motivated youth to create and try out their ideas for building peace.

Projects for Peace initiative was inspired by the late philanthropist Kathryn W. Davis. Upon the occasion of her 100th birthday in February 2007, Kathryn W. Davis chose to celebrate by committing $1 million for 100 Projects for Peace. She is the mother of Shelby M.C. Davis, who cofounded the Davis UWC Scholars Program in 2000. Since its inception, the Davis UWC Scholars Program has grown to become the largest international scholarship program for undergraduates in the world. For his efforts to transform lives and increase global diversity in American higher education, Shelby M.C. Davis received an honorary degree at Colorado College's 2016 Commencement ceremony.
Daudon, Kelly, and Schmidt's project is one of many Colorado College projects to be awarded a Davis Projects for Peace prize. Previous projects include the filming of a documentary in Nigeria (2007); a sports clinic in Honduras and solar water disinfection in Ecuador (both 2008); a summer music camp for students in Bosnia-Herzegovina (2009); a touring art bus in the Pacific Northwest (2010); working with disenfranchised women in Ugenya, Kenya (2011); a look at post-election violence in Kenya (2012); raising awareness of mental health issues in Bangladesh (2014); and developing a soccer program in a refugee camp (2015).