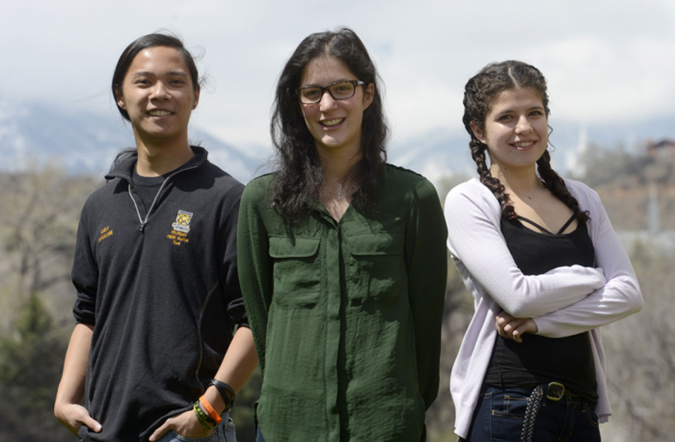 Three Colorado College students have been selected as assistant language teachers by the Japan Exchange and Teaching (JET) program. Amanda Barnstien '16 of Aurora, Colorado, Carlo Sangalang '16 of Colorado Springs, and Emma Schulman '16 of Newton Highlands, Massachusetts, will be teaching English in Japan during the coming year with the nationally competitive post-graduate, service-oriented fellowship.

"The JET program provides a valuable opportunity for CC students interested in teaching or working with young people, with the added benefit of living in Japan," says CC Professor of Japanese Joan Ericson, who serves as the campus adviser for the program. JET aims to promote mutual cultural understanding between Japan and other nations through language education and cultural exchange.

Barnstien, an international political economy major with a minor in Japanese, became interested in learning Japanese during her First-Year Experience, which she took with Ericson. Later Barnstien studied abroad at Waseda University in Tokyo. "For me, the JET program not only is an opportunity to further my language abilities, but also to help students learn a foreign language, since I know how difficult that process can be," Barnstien says. "There've been times when I wanted to give up when learning Japanese, but I've kept going. I hope that I can inspire Japanese students not to give up during my time on the JET program. After JET I would like to go to graduate school, although I am still thinking of where and what to study."
Sangalang is a studio art major with minors in Japanese and performance design. He spent four months in Japan last spring as part of the CC in Asia program, and applied to the JET program because he wanted to return to Japan and contribute to the education there. "Additionally it would allow me to strengthen existing bonds and create new ones," Sangalang says. "It would afford me the opportunity to hone my teaching skills and my art in my off time in order to prepare for what is to come. Afterward, I would hope to use my newly developed portfolio and reputation to find another career related to art or teaching."

Schulman, an international political economy major and Spanish minor, says she applied for the JET program following graduation because "there is no better time to have an experience like this. While I don't know what I want to do after the JET program, I know that I would like to do something with an international focus. I think JET will give me clarity on possibly wanting to pursue a career in educational consulting, teaching, or administration." Schulman says she knew the program was very competitive and felt she was at a disadvantage because she didn't know very much about Japan. "I decided to apply because I have a lot of experience working with children, and I love to travel. I hoped that I could do something exciting for the year after graduating, and going abroad with JET is a way that I can experience a new culture, travel, get work experience, and hopefully learn a new language."
"As you can see from our successful applicants this year, both students who have already studied Japanese and those who have not are eligible to apply," says Ericson. "They need to have demonstrated that they like working with junior high or senior high students. I've worked with Amanda and Carlo since our FYE four years ago and look forward to seeing what adventures will unfold in the year ahead. I've been told that CC students consistently do very well in the JET program, since they are bright, flexible, and full of great ideas and energy to use in the classroom."
The JET program, which is much like the U.S.'s Fulbright ETA program, began in 1987. To date, more than 60,000 individuals have participated, 30,000 of whom have been from the U.S. More than 90 percent of JETs work as Assistant Language Teachers (ALTs) teaching English at the elementary, junior high, or high school levels for one-year appointments, with possible extensions of up to three years.