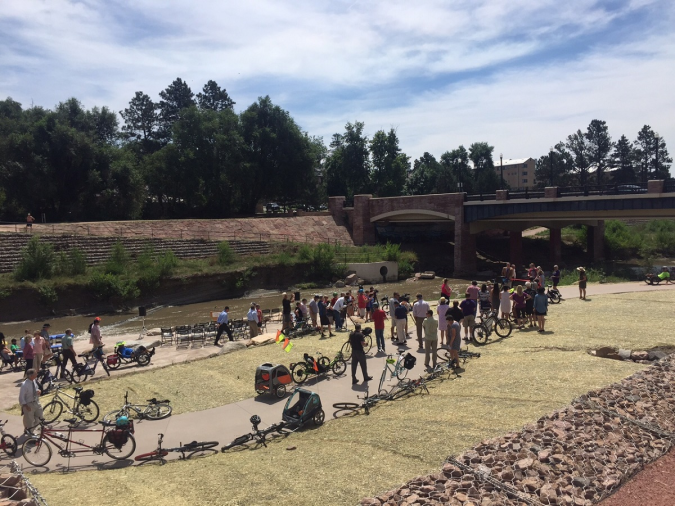 Three students in Colorado College's Public Interest Fellowship Program worked with separate organizations this summer which recently came together at a ribbon-cutting ceremony celebrating the Legacy Loop Uintah Underpass Project
Carolyn Best '20 was a Public Interest Fellow with the Fountain Creek Watershed Flood Control and Greenway District, Carter Eng '19 was a fellow with the Greenway Fund, and Annie Engen '19 was a fellow with the City of Colorado Springs Parks, Recreation and Cultural Services Department. All three organizations were involved with the Legacy Loop project, a comprehensive multi-phase plan that aims to create a cohesive multi-use 10-mile trail and park loop that will improve connectivity, expand accessibility, and enhance recreational opportunities in the region.
The July event commemorated a new portion of the trail that runs along the west side of Monument Creek at Uintah Street, adjacent to the Colorado College campus.
Best, a political science major and Chinese minor, is supporting the Fountain Creek Watershed District's education and outreach programs this summer. Her primary focus is coordinating Creek Week, the largest watershed-wide cleanup in the state of Colorado, which she describes as "a frenzied, nine-day cleanup event" that takes place in the fall. It involves about 3,000 volunteers, who come from all areas of the watershed, including Colorado College students, faculty, and staff. "My job is to help organize the outreach, registration, and sponsorships needed to pull off such a large event," she says.
"The ribbon-cutting event at Monument Creek, though not explicitly Creek Week related, was something that interested me due to my proximity as not only a member of the Fountain Creek Watershed District staff, but as a CC student," Best says. "Clearly, Monument Creek is in our backyard; yet, other than a couple of days a year, many of us don't interact with it much. I wanted to attend the ceremony to get a feel for what's really been going on in that stretch of the creek, and how it is more accessible now than ever to CC students and the greater Colorado Springs community."
Eng, an environmental policy major, was a PIFP fellow with the Greenway Fund, the fiscal sponsor of Creek Week, and worked with Greenway Fund Executive Director Christine Lowenberg. "It has been an amazing experience to be able to sit down with two parties and observe an ask for hundreds of thousands of dollars," he says. He also has become involved in the city's local politics. "I attended the public hearing session for the camping ordinance which restricts camping within 100 feet of a waterway to get a better idea of how the public feels on the issue. I have a much more nuanced understanding of the dynamics of Colorado Springs' politics now," he says.
"I had seen the project progress all year, but I had no idea the amount of investment and time a project of this size took. The Uintah Street Underpass project began over five years ago, and it was only finished recently. Without being intimately involved with public projects and funding for them, it is hard to truly understand them. The Greenway Fund has provided me a lens through which to look at everyday projects and to have a greater appreciation for them," says Eng.
Engen's PIFP fellowship with the Colorado Springs Parks, Recreation and Cultural Services Department involved data collection and analysis for both the Garden of the Gods and Pikes Peak shuttle systems. "This summer marks the first season for both of these shuttle services, so data and feedback from shuttle users is essential right now," she says. "As a math-econ major at CC, this has been a great learning experience, as I'm applying data analysis techniques to some highly-profiled projects." Based on her positive experience this summer, Engen says she would be interested in going into traffic engineering or working for the National Parks Service after graduation. (Check out Annie Engen's side project.)
Best hopes to work in environmental policy-making on a larger scale, possibly at the nationwide or global level. "Though a ribbon-cutting event at my local creek may seem a far cry from negotiating environmental policies overseas, I see this - and my fellowship as a whole - as an introductory course on the inner workings of environmental policy on a community level, and I am excited to see what the future holds," she says.