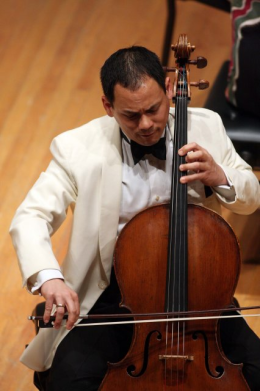 In case you missed Colorado College's Summer Music Festival last year, you now have a chance to catch some of the highlights.
Radio station KCME (88.7 FM) will broadcast highlights from the 2010 Summer Music Festival from 3 to 4 p.m. each Sunday afternoon through June 5, a perfect lead-up to this year's festival's opening on June 6.
The broadcasts will feature Colorado College faculty as well as guest artists. "We are so excited about this opportunity to bring the Summer Music Festival to so many people in the region," said Sue Grace, festival music director and Colorado College artist-in-residence. "Although the festival is celebrated by many, we are always excited about bringing its concerts, pre-concert lectures and outreach programs to a wider audience."
The first concert of the summer season will be held at 7:30 p.m., Wednesday, June 8, with a free pre-concert lecture beginning at 6:15 p.m.
"We hope the community will listen to these wonderful broadcasts and support the Colorado College Summer Music Festival by attending the live concerts this summer." said Jeanna Wearing, KCME general manager.
Visit the Summer Music Festival website for information on this year's schedule.
KCME is heard in Colorado Springs/Pueblo/Manitou Springs on 88.7 FM, in Cripple Creek/Victor on 89.5 FM, in Woodland Park on 93.5 FM, in Salida/Buena Vista on 88.1 FM, in Cañon City/Florence/Penrose on 91.1 FM and in Summit County on 89.3 FM.