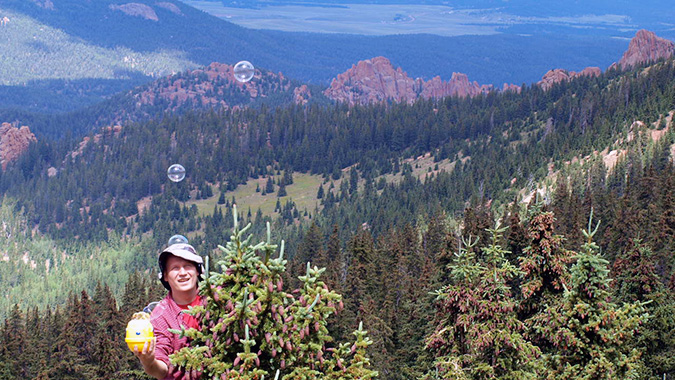 Story and photo by Ellie Nesbit '14
What can you do with a $12 bubble machine from Wal-Mart? Apparently a lot more than just blow bubbles. Just ask Colorado College Environmental Science Associate Professor Miro Kummel, who is using the device as one way to track the ways trees alter small-scale wind patterns at the tree line on Pikes Peak.
The bubble machine is just a small part of Kummel's ongoing research on how climate change has affected the tree line on Pikes Peak. Kummel has been coming out to tree line for the past five years, collaborating with various groups of Colorado College students who receive Student-Faculty Collaboration Grants from the Dean's Office, and Lyddon grants, internal grants given to environmental science majors for student-faculty collaborative summer research.
Ecologists have noticed that the tree line, or the point of a habitat where trees become incapable of growing due to cold temperature, has risen as a consequence of global temperatures rising.
This summer Kummel worked with several students from Colorado College's environmental science program to collect data on vertical wind profile, vertical and horizontal mixing, and air and soil temperatures. The team is trying to further understand the microclimatic conditions that are put into motion by the migrating tree line. As the trees warm up the surrounding area, more trees can grow, creating a positive feedback loop.