Diversity Timeline
Diversity at CC
Colorado College hosted the Winter Symposium with a theme of "Ethnicity & Identity".
1993
First White Woman President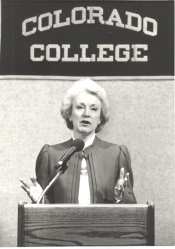 Kathryn Mohrman became first white woman to serve as president of Colorado College. She occupied the office for nine years, from 1993 to 2002.
Campus Diversity Rally
The Accountability Coalition, in addition to representatives from the Asian American Student Union, Bi-sexual, Gay, and Lesbian Alliance, Black Student Union, Feminist Collective, Movimiento Estudiantil Chicano de Aztlan, and Native American Student Association, joined forces to organize a rally on May 8 to highlight the need for diversification on campus.
MOSAIC
The International Student Organization becomes the Multicultural Organization of Students and the International Community (MOSAIC).
1994
Diversity Council
President Kathryn Mohrman created the college's first Diversity Council to give prominence and visibility to a strategic priority on diversity by the college. The Council was reconfigured in 1998.
1995
Women's Studies Major
25 years after the Women's Commission was first organized, a Women's Studies major was recognized as part of the curriculum. Colorado College did not adopt a Women's Studies major until it had a female president (Kathryn Mohrman).
1997
The Glass House
The Glass House becomes a permanent multicultural residence at Colorado College, after two years as a theme house. Built at the turn of the 20th century in a Moorish architectural style, the house - officially known as the Lennox House - was a legacy of William Lennox, a local banker and CC trustee from 1901-1936. Opened as a campus student center in September 1937, the Glass House is now home to a multicultural awareness learning, support, and programming community, supported by the Residential Life and Housing Office.
1999
Summer Bridge Program
The Summer Bridge Program is inaugurated. Students are invited to campus for a one-block course in August if they identify as one of the following:
First-generation college students (neither parent has completed a four-year college degree)
QuestBridge Scholars
Attended a high school that offered relatively limited opportunities for advanced coursework
Bridge Courses
Bridge courses are limited to 15 students, providing them the opportunity for extra attention and advice from the professor.
SOMOS
MECHA became SOMOS, an organization dedicated to educating students about Latino/a culture.
2002
Vision 2010
President Richard F. Celeste introduces "Vision 2010," the goals of which were to:
Hire more tenure-track faculty
Provide more funds for faculty research and student Venture Grants
Evaluate and improve the General Education requirements to include 3 units of Diverse Cultures and Critiques, The West in Time (one two-block course), 2 units of Scientific Investigation of the Natural World.
Student Diversity
Vision 2010 set a major goal of increasing diversity in the student body, which meant recruiting, retaining, and graduating more American ethnic minorities and international students. The percentage of minority students in the student body grew from 12-13 percent to 17-19 percent under Celeste's presidency, and international students grew to 6 percent.
2003
Coretta Scott King
In 2003, Coretta Scott King delivered the William Jovanovich Lecture and Capstone Address at Colorado College to an overflowing crowd.
EQUAL
EQUAL (Empowered Queers United for Absolute Liberation), a student organization seeking to provide a safe space for all who are queer, questioning, gay, lesbian, bizexual, or transgendered, is founded.
Black Student Union
Black Student Union becomes a chartered student organization.
2006
Queer-Straight Alliance
Queer-Straight Alliance was founded.
Feminist and Gender Studies
Women's Studies became the Feminist and Gender Studies Program.
2011
Additions to the Anti-Discrimination Policy
The college added "gender identity, gender expression" as an additional category for protection in Article IX of its Equal Opportunity Statement and in its Anti-Discrimination Policy.
Jill Tiefenthaler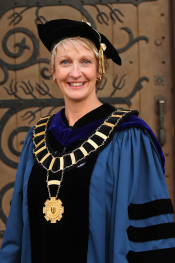 Jill Tiefenthaler became the second woman to serve as president of Colorado College.
2012
Sandi Wong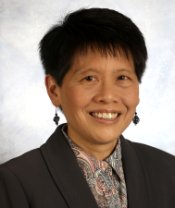 Sandi Wong, professor of sociology, became the second woman to serve as the academic dean of Colorado College.
President Obama

President Barack Obama visited Colorado College, drawing a crowd of more than 4,100 people to Cutler Quad.
Colket Center
The Colket Center for Learning Excellence sought to ease the adjustment to Colorado College for incoming under-resourced students.
2013
Marian Wright Edelman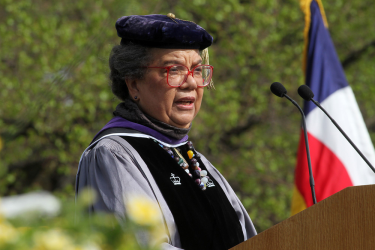 The Commencement speaker was Marian Wright Edelman, African-American founder and president of the Children's Defense Fund, and a recipient of an honorary degree from Colorado College in 1999.
2014
African American Youth Leadership Conference
Colorado College hosted the 22nd annual African American Youth Leadership Conference.
Diversity and Equity Advisory Board
The Diversity and Equity Advisory Board was established to promote and support diversity and equity among staff and faculty.
Founding of The Butler Center
The Butler Center at Colorado College seeks to inspire and create an intellectual and social culture that is inclusive and respectful towards all. Serving as the college's hub for diversity, inclusion, and intercultural exchange, The Butler Center took over the duties of the Office of Minority and International Students (OMIS), established in 1990. Named for Ellis Ulysses Butler Jr. '40, one of Colorado College's earliest African American alumni, The Butler Center honors Ellis' legacy and generous gifts to his alma mater by working towards his vision of a more inclusive and welcoming future.
Paul Buckley joins CC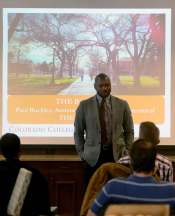 Paul Buckley joins CC as an assistant vice president and inaugural director of The Butler Center. Arriving from Dartmouth College, where he served as assistant dean of undergraduate students, Buckley holds a Ph.D. from Syracuse University, as well as a master's and bachelor's degree from the University of Albany. Leading the efforts of The Butler Center, Buckley works towards broadening diversity and inclusivity at CC.
Courageous Conversations
The Colorado College Student Government Association (CCSGA) initiated Courageous Conversations, a discussion series aiming to engage the student body in fruitful, productive conversations on highly stigmatized topics submitted by CC students. Courageous Conversations topics have included immigration, the hookup culture, political differences, gender and sexuality, and the petition to diversify the curriculum.
Ferguson Protests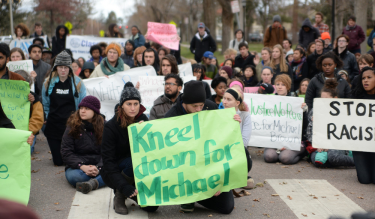 Students participated in protests as a response to the grand jury decision that police officer Darren Wilson would not be indicted in the death of unarmed teenager Michael Brown in Ferguson, Missouri.
2016
Homecoming 2016 LGBTQIA+ Stories
At Homecoming 2016, receptions for LGBTQIA+ alumni and students, as well as alumni and students of color, were held. We spoke with four members of the CC community; Alan Woo '71, Han Sayles '15, Karl Jeffries '91, and Shanna Katz Kattari '06. These are their stories.
2017
Responding to Representation: Staging Asia and Asian America

CC hosts panel discussion "Responding to Representation: Staging Asia and Asian America," focused on two plays - "The Mikado" by Gilbert and Sullivan and "Yellow Face" by David Henry Hwang - that were sharing rehearsal space and being performed the same weekend. Attended by both CC and Colorado Springs community members, the panel discussed the role and responsibility of those in the performing arts, the legacy of cultural appropriation, the realities of finding accomplished actors regardless of ethnicity, and the disheartening fatigue of continually challenging the homogeneity of Asian representations.
2018
Examining Inequity
In April, President Jill Tiefenthaler announced a campus-wide effort to better "listen to and understand the lived experiences of marginalized members of our community, in order to recognize our own role in creating and perpetuating inequity."
The faculty voted to eliminate the West in Time general education requirement in an effort to move toward a more diverse and equitable curriculum.
Smudging and Pipe Ceremonies
In support of the cultural integrity of Indigenous/Native American students, faculty, staff, and guests, Colorado College in September 2018 adopted a Smudging and Pipe Ceremonies Policy. CC designated venues on campus for Indigenous/Native American students, faculty, staff, and guests to practice smudging and/or pipe ceremonies associated with traditional religious ceremonies and observances. Additionally, the college began recognizing and supporting Indigenous/Native American students engaging in these sacred practices within the privacy of their residence hall rooms.
2019
Tava Quad
At its February 2019 meeting, the Colorado College Board of Trustees unanimously and enthusiastically approved naming Tava Quad in response to a request from the Indigenous and Native Peoples of CC. "Tava" means "Sun Mountain," and is the name used by the Tabegauche Band of the Ute People for Pikes Peak. The area designated as Tava Quad was previously known informally as Armstrong Quad.
2020
DEI Leadership Team


In June of 2020, CC announced that a team of three leaders would be joining the college to form the Diversity, Equity, and Inclusion Leadership Team, with one member of the team focusing on the academic program; a second on students; and a third on employees and college business relations. Peony Fhagen joined the CC community as the new senior associate dean for equity, inclusion, and faculty development, Rosalie M. Rodriguez joined CC as the senior associate dean of students for equity and inclusion/director of the Butler Center, and Barbara J. Wilson was named to serve as the interim director of diversity, equity, and inclusion for staff.
$1 million for Antiracism Initiative
To enhance and accelerate the work of the new DEI leadership team CC Board of Trustees Chair Susie Burghart '77 donated $1 million to further the college's Antiracism Initiative. "I wanted to underscore how important this initiative is to all of us - as educators, parents, students, staff, and alumni," Burghart says. "These experts will guide the college in long-needed work that is now even more crucial. This is a moment when CC can lead and make a difference."
CC Receives $575,000 Grant Supporting Black Education Students
In October 2020, CC received a $575,000 grant from the Sachs Foundation to support Black students interested in pursuing careers in education. The grant will be used to support summer fellowships, academic-year internships, and scholarships, including two Master of Arts in Teaching scholarships. "Such a mission necessitates the active recruitment, development, and support of Black, Indigenous, and people of color (BIPOC) teachers, but especially Black teachers whose presence in the classroom yields positive social, cognitive and academic outcomes for all students, regardless of race," said Associate Professor and Chair of the Education Department Manya Whitaker. "We are extremely grateful to the Sachs Foundation for removing the economic barriers that prevent many Black students from considering a career in the classroom."
CC Joins Liberal Arts Colleges Racial Equity Leadership Alliance
In the fall, Colorado College joined the University of Southern California Race and Equity Center's newly established Liberal Arts Colleges Racial Equity Leadership Alliance. The group works together to share strategies, seek advice, and identify ways to leverage collective impact towards racial equity in higher education.
First Woman of Color Named as CC's 14th President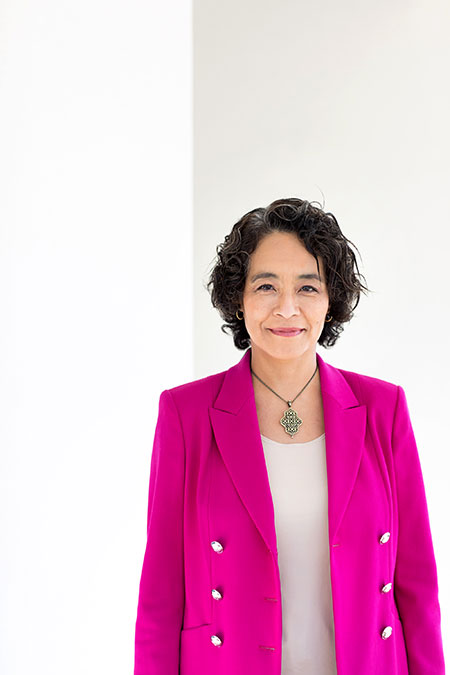 On December 9, 2020, Colorado College announced its incoming 14th President, L. Song Richardson. Richardson is a legal scholar, dedicated educator, lawyer, and expert on implicit racial and gender bias, and will assume the presidency on July 1, 2021. Richardson, who is Black and Korean, will be the first woman of color to hold the presidency at Colorado College. At the time of writing, Richardson is the dean and chancellor's professor of law at the University of California, Irvine School of Law. When she was appointed to that post in January 2018, she was the only woman of color to lead a top-30 law school.
"Everything about CC resonated with me," says Richardson. "The more I learned, the more intrigued I was by this community of innovative changemakers and problem-solvers. I am honored to join CC and the Colorado Springs community, and look forward to building a bright future together."
We acknowledge the work of Zita Toth '16, CC Archivist Jessy Randall, Amy Brooks, and others on the creation and curation of this timeline and its content. Additional reading includes, but is not limited to: Robert Loevy's "Colorado College: A Place of Learning, 1874-1999," Robert Loevy's "Colorado College: 1999-2012, into the 21st Century," and J. Juan Reid's "Colorado College: The First Century, 1874-1974," all available at the Colorado College Bookstore.
We know we haven't captured all the important moments for diversity at CC. If you have suggestions for additions or changes to this timeline, please contact CC Communications.