Internships
As a stepping stone into the career-related world, there is nothing quite as good as an internship. Work experiences offered through a variety of internships help students "learn by doing" and allow them growth and the opportunity to explore their passions through meaningful and applicable work.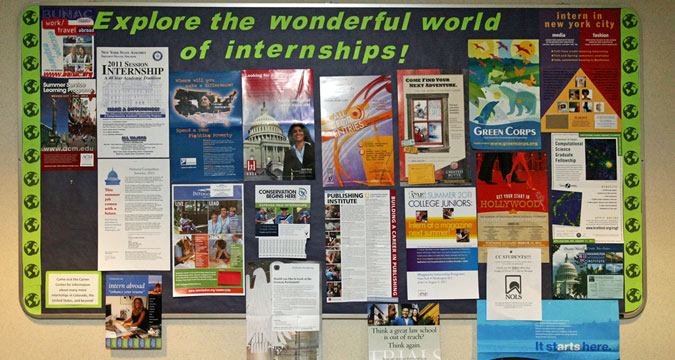 CC offers its students several internship experiences which they may take advantage of. While students are free to pursue their own internship opportunities and can be aided by the Career Center through the usage of Colorado College Funded Internships for otherwise unfunded internship placements, CC does offer students access to established and highly regarded internship experiences. Two of these include:
Public Interest Fellowship Program: The Colorado College Public Interest Fellowship Program (PIFP) provides students with the opportunity to pursue meaningful work with public interest nonprofits. These organizations are looking for systematic and efficient solutions to some of the many challenges within society today, and they are located both in Colorado Springs and Denver.
Charlie Blumenstein Water and Wildlife Conservation Internship: Fostering those whose passion lies in the areas of environmentalism and conservation, and founded in 2003 in memory of CC graduate Charlie Blumenstein '96, this internship provides a paid summer position at The Nature Conservancy Silver Creek Preserve in Picabo, Idaho. Students are charged with the stewardship and care of the water environments on the preserve and are afforded valuable scientific and sociological learning opportunities through this internship.
General Studies Internship Adjunct: Internships provide students with a significant learning experience outside the classroom setting, often with a company or organization that requires that the student receive credit from the college in order to be accepted for the internship. The GS199: Internship Adjunct represents an educational strategy that links classroom learning with the application of knowledge in an applied work setting. Students may receive 1/4 unit of credit by participating in an internship for a minimum of four weeks and 40 hours of supervised work. The GS199 is taken under the Pass/No Credit grading option only. A maximum of two GS199 internships may be completed.
In addition, many academic departments or offices (such as Student Activities and Admission) on campus employ students; check out student job listings on Handshake, the CC Career Center's online career platform, or contact the department or office directly and inquire about available opportunities.
The Career Center is continually updating its databases of internships available and is always willing to help you when beginning your search for an appropriate work experience position. Furthermore, they'll be able to help you with your application and interview process, offering reviews and advice for both.