Department of Music
CC concerts are open to the public; all members of the public age 12 or older attending a Colorado College-sponsored, indoor public event will be required to present proof of vaccination or negative COVID-19 test result, along with a valid photo ID. See more information
here
.
Spring 2022 Lesson Registration Open
Visit the Lesson Registration page to begin the process of signing up for lessons. Lesson registration is all online.
Upcoming Events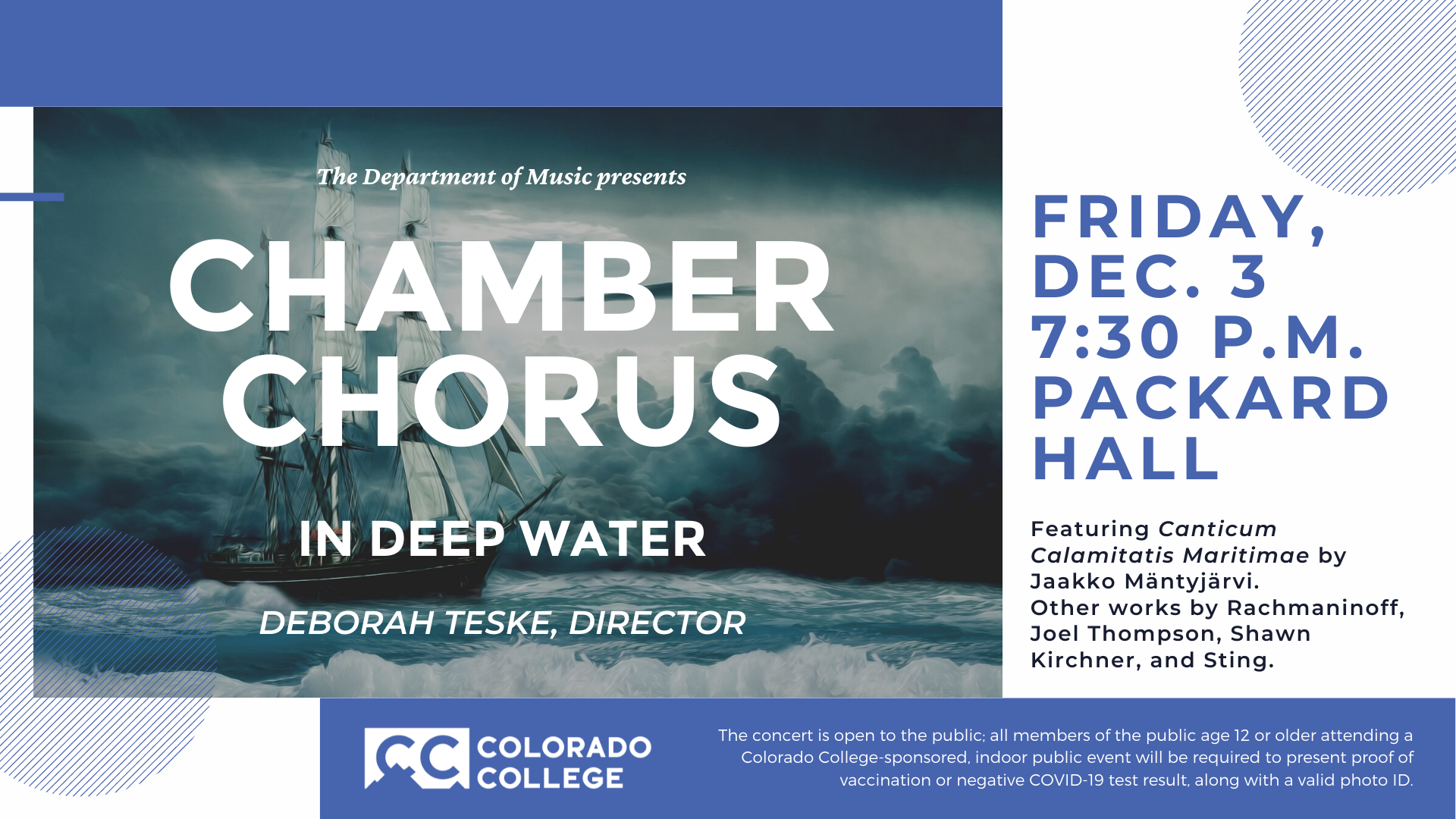 Chamber Chorus Concert: 7:30 p.m. Dec. 3
View the program.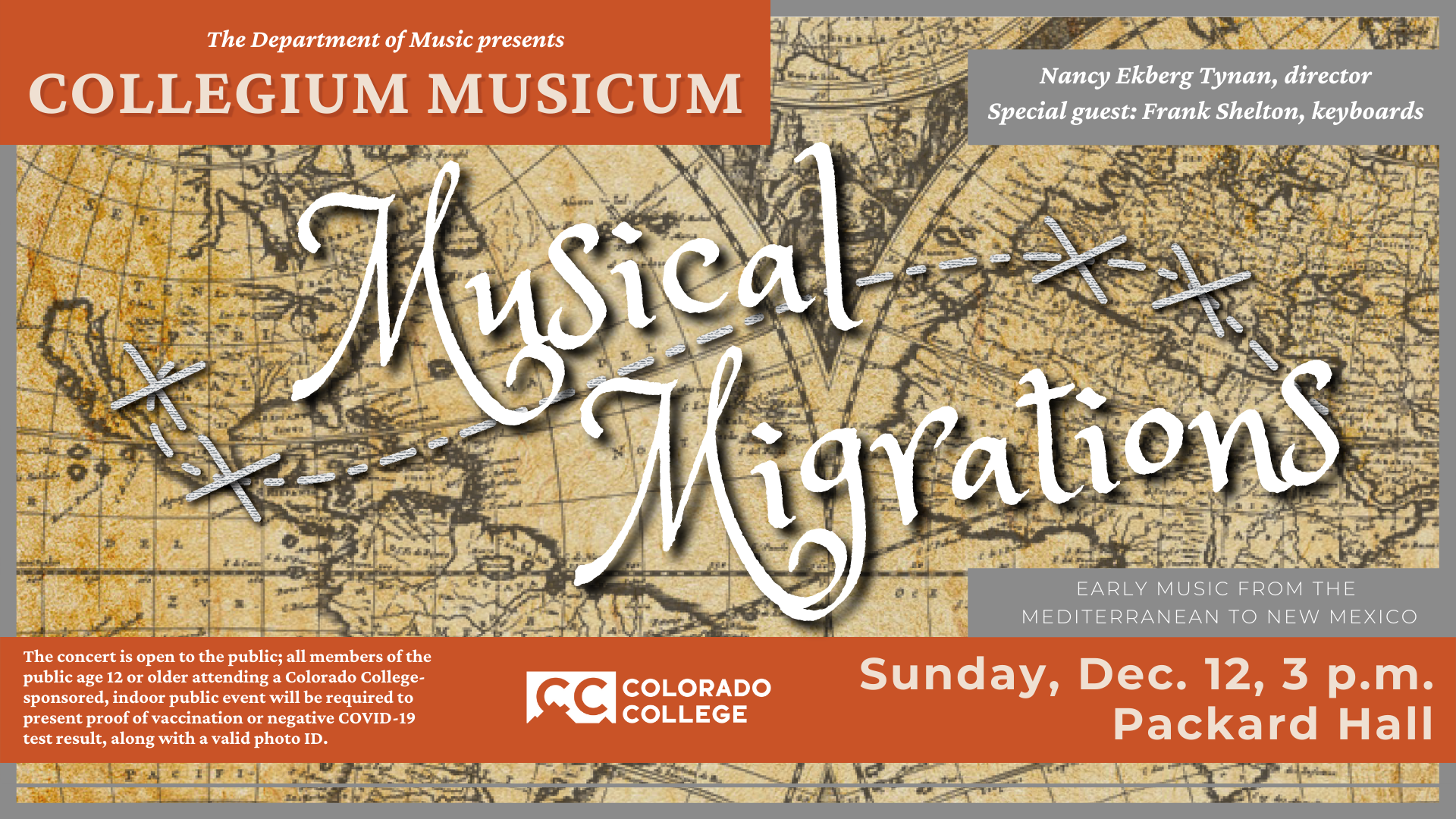 Collegium Musicum Concert: 3 p.m. Dec. 12
Program coming soon!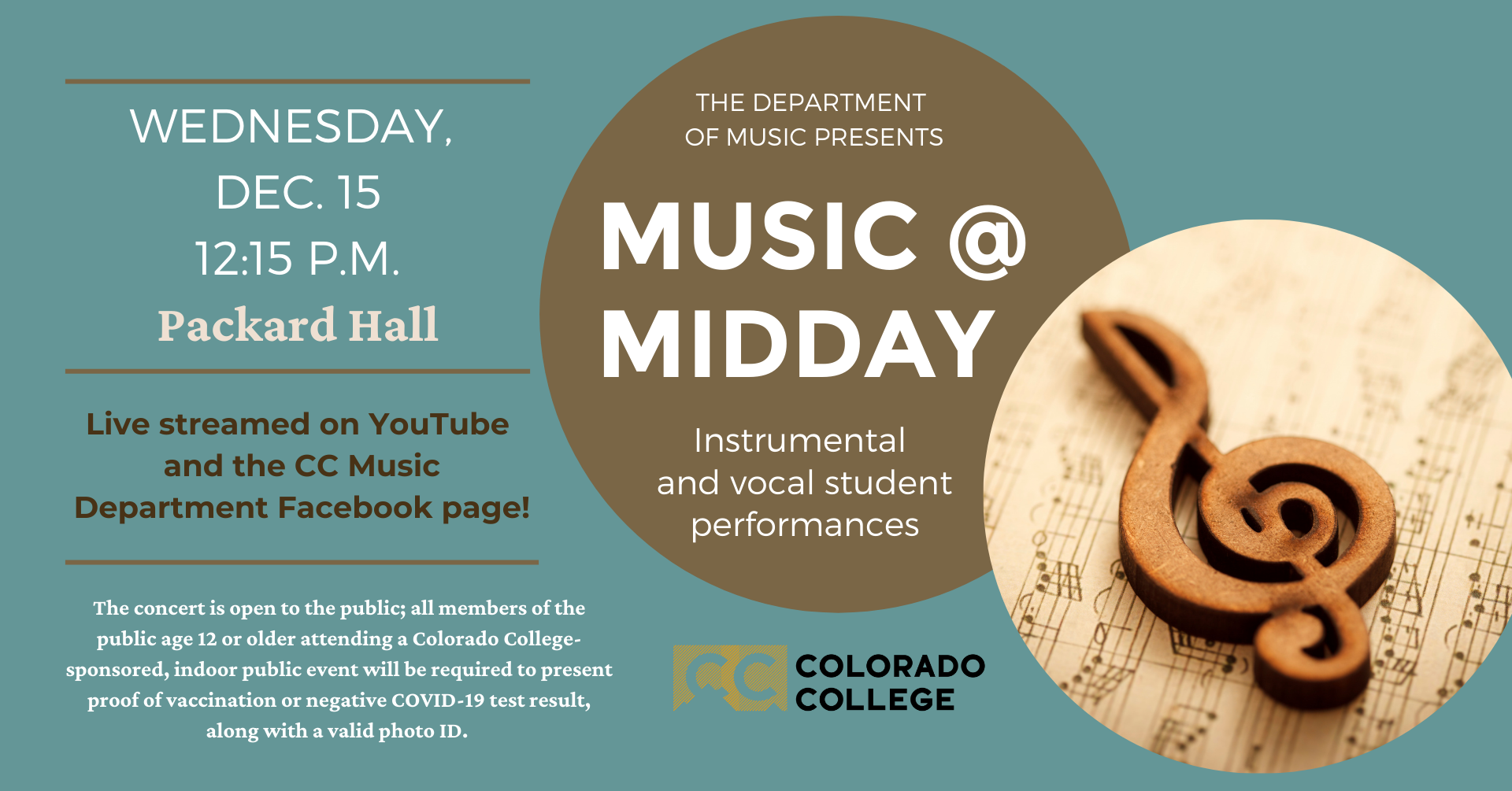 Music at Midday: 12:15 p.m. Dec. 15
Live streamed on YouTube and Facebook - check back for links!
Program coming soon!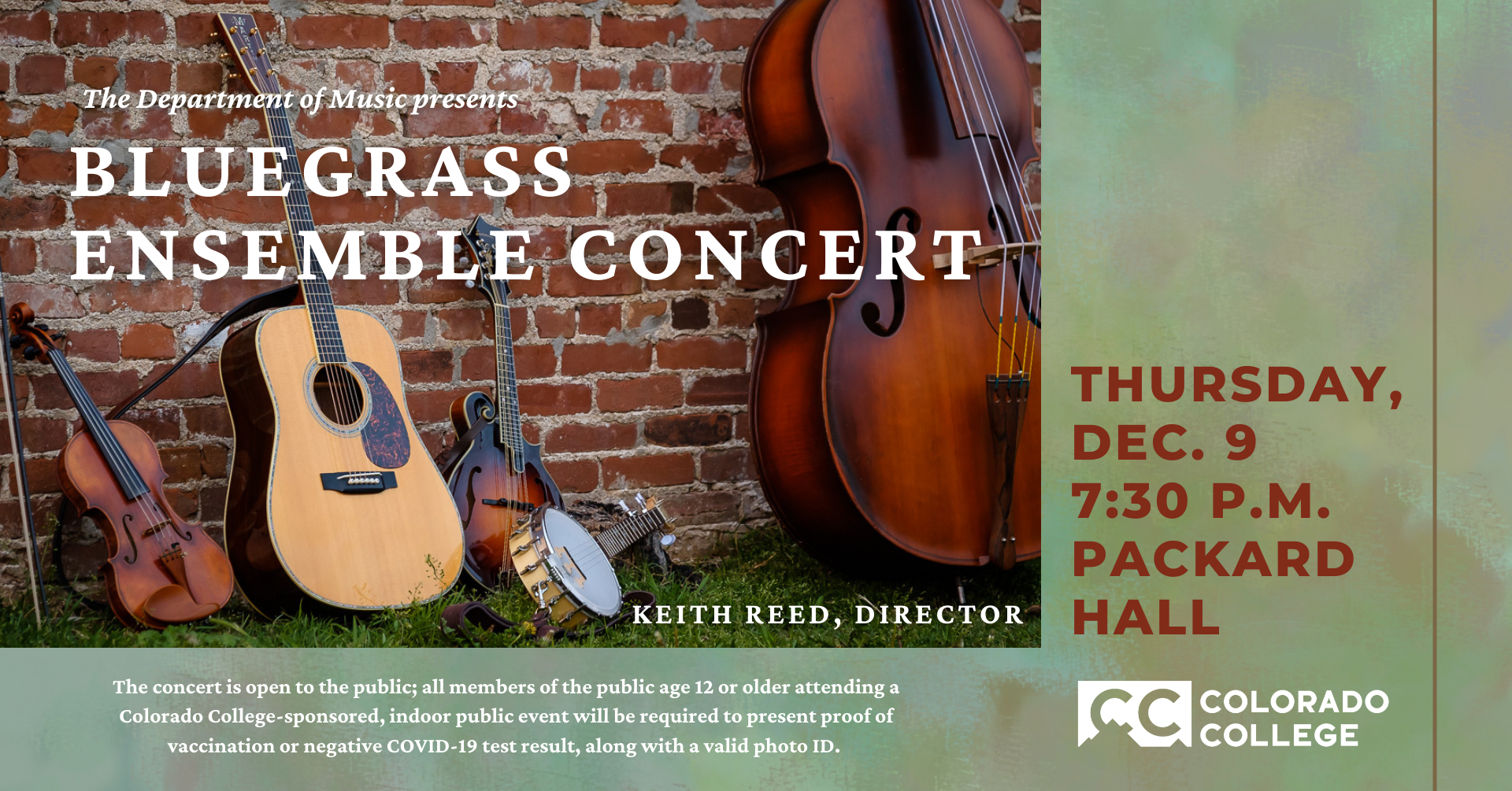 Bluegrass Ensemble Concert: 7:30 p.m. Dec. 9
View the program.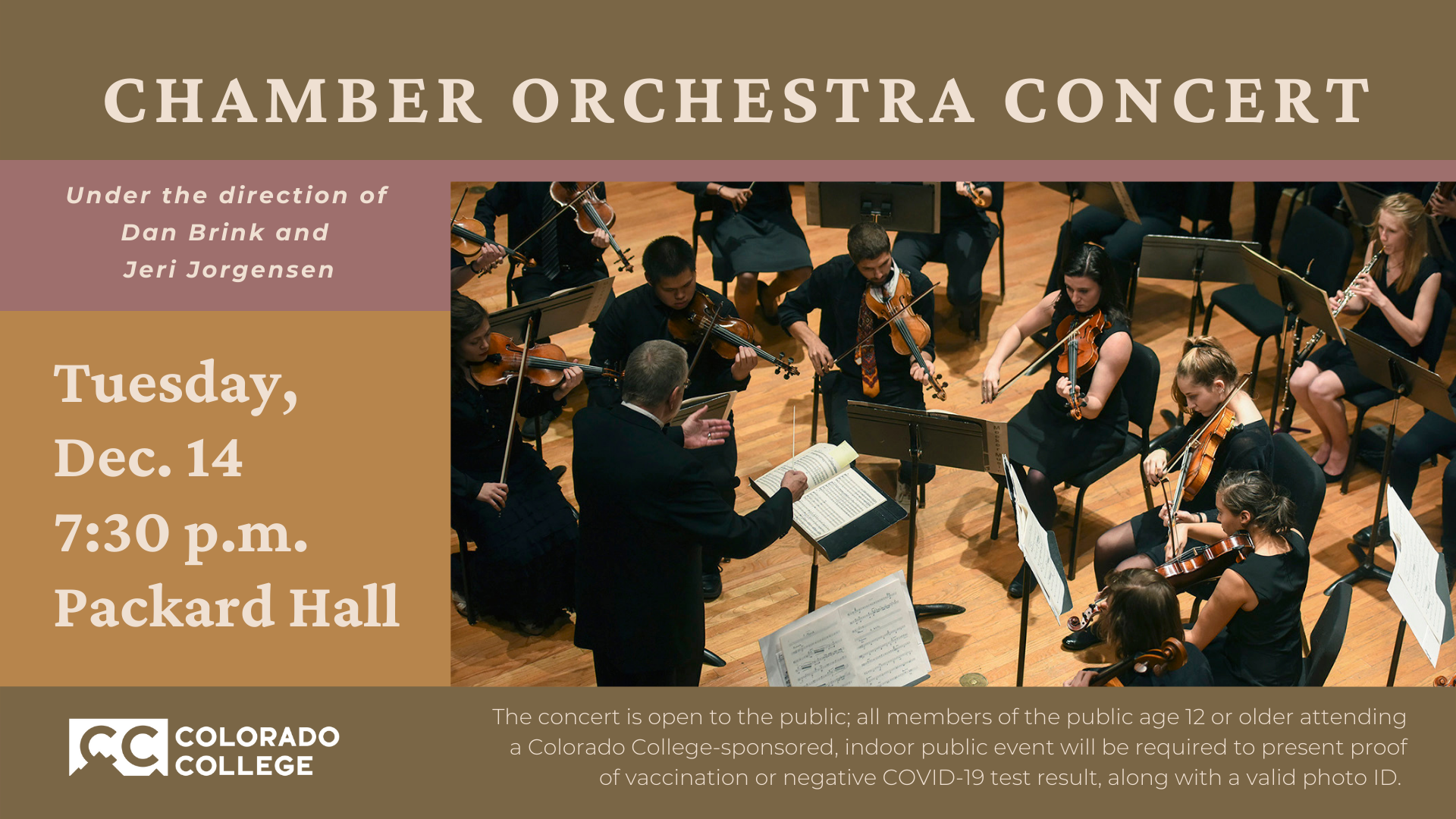 Chamber Orchestra Concert: 7:30 p.m. Dec. 14
Program coming soon!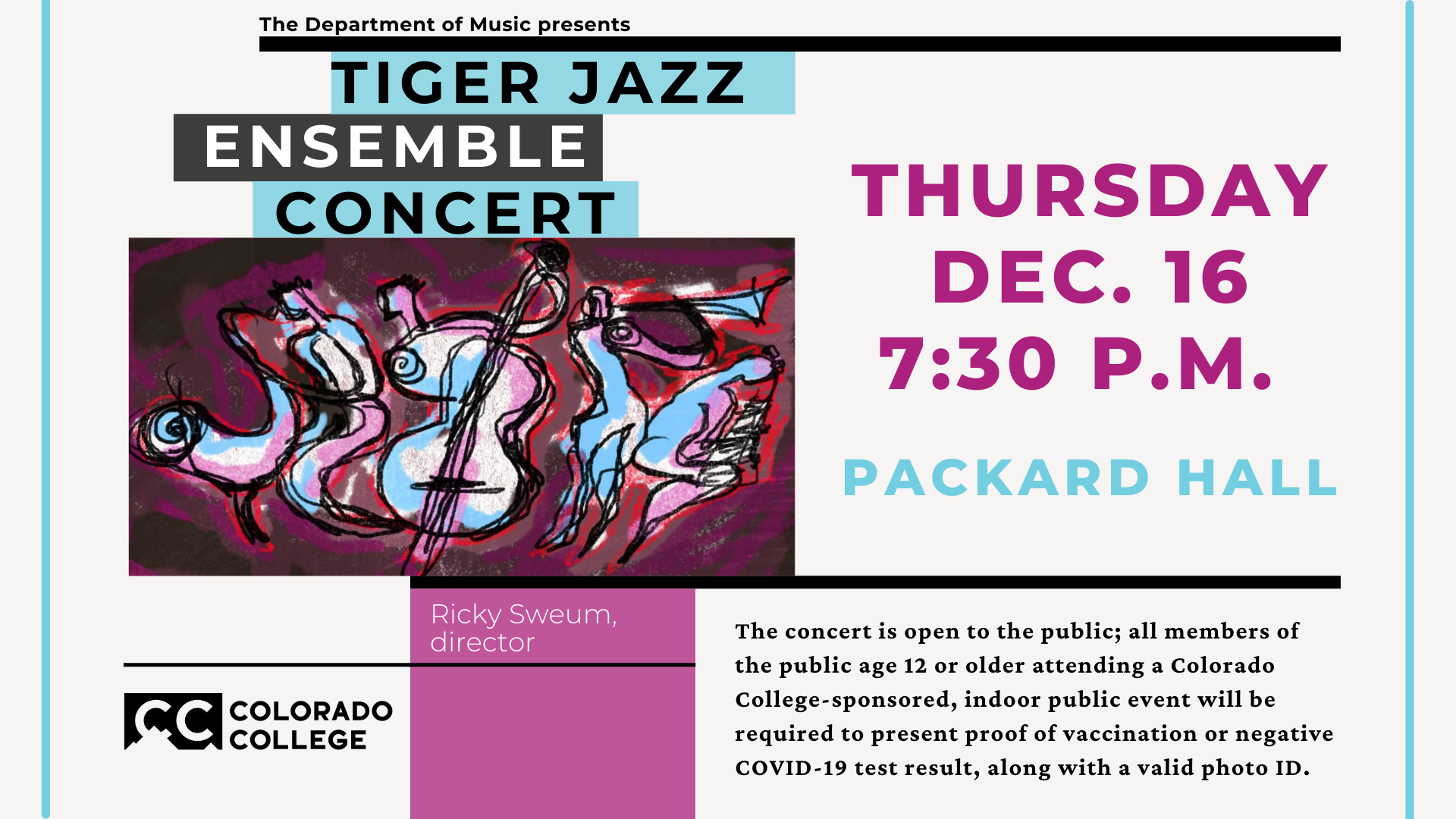 Tiger Jazz Ensemble Concert: 7:30 p.m. Dec. 16
Program coming soon!
Recent events
Student Resources
Quick Links & Resources
About Us
The Music Department at Colorado College strives to be an all-inclusive place where musicians of all interests and skills can come to participate in music activities. No audition is required to enter the department, and while we offer a course of study for both music majors and minors, all students at Colorado College are eligible to attend our classes and sign-up for our ensembles. In fact, many of the 350 students who are active in the department do so only for their own pleasure.
As you'll see from our course listing, our academic curriculum attracts students from the entire campus. The Block Plan allows for course trips to the opera in Denver, to churches, synagogues and mosques for Jewish and Islamic music, to Native American pow-wows for American Indian music, and as far as Bali, Indonesia to attend Hindu temple ceremonies.
Our national award winning full-time and visiting faculty includes professional artists-in-residence, composers, ethnomusicologists, American musicologists, music historians, and a music technologist. They provide students with training in performance, music theory, composition, western and non-western music literature, media and technology. Our small class size means that they are available to you both as academics and musicians.
Our ensemble directors preside over a wide variety of group performance opportunities, and our studio instructors offer group classes and private lessons in instruments from the classical orchestra, the concert band, world music, bluegrass, and jazz. Online registration for music lessons is available the first two weeks of each semester. Need based scholarships are available for group and private music lessons.
The department occupies Packard Hall, with its acoustically superior 300-seat concert hall, state-of-the-art recording studios and classrooms, sound-proof practice rooms, and teaching studios. The Albert Seay Memorial Library of Music and Art is a unique resource of rare books, scores, and recordings. We welcome you to join us for one of our 80+ performances each year, to sign up for a course, or to participate in making music with us, either as a major/minor, or simply for the joy of it!
If you have any questions, please contact us. We'd be happy to hear from you.