Math at CC
Mathematics has always been central to a liberal arts education, and we strive to offer students both the classical and the current in mathematical thought. Our program has been designed to meet the needs of students fulfilling requirements in other departments as well as the needs of students with their sights set on graduate study in the mathematical sciences. We combine both the theoretical and the applied in our courses, and encourage students to participate in the many interdisciplinary opportunities at the college.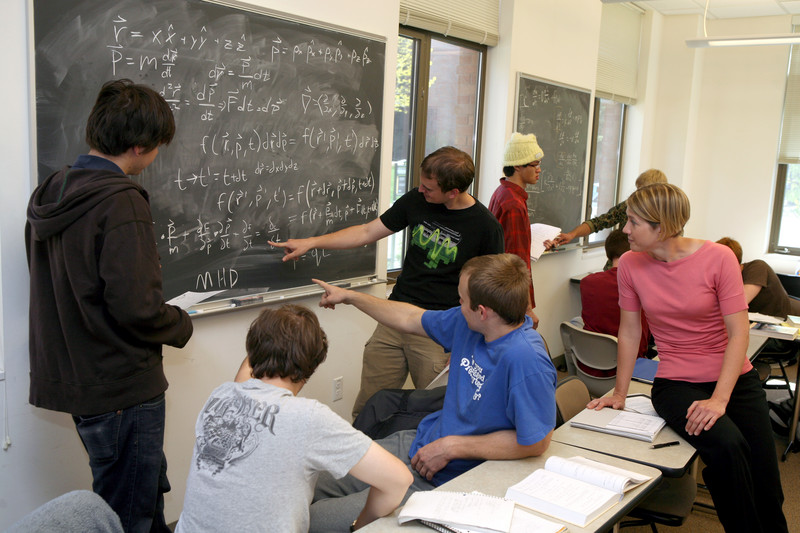 The intensity of studying mathematics on the block plan is the strength of the program. Students can give any course they take their total concentration. Typically, a course will meet for two hours every morning with a short break in the middle. Discussion is mixed with lecture and laboratory work in a rather informal setting. The department has its own computer lab, so often a class will meet in the lab for special assignments. In the afternoon, students can attend problem sessions, special labs, or faculty office hours. The department has two paraprofessionals, one in mathematics and one in computer science, who are available all day to conduct problem sessions and offer individual attention. In the evening, student tutors run study sessions and various groups of students taking the same course meet to help each other.
In addition to the regular courses, there are several other opportunities for students interested in mathematics. For upper division students, the block plan allows considerable flexibility in arranging independent study courses. The department also offers a semester long seminar for credit where students read and discuss journal papers. One of our courses is an introduction to mathematical research where the professor collects some unsolved problems in a specific field and students work to make some progress toward a solution.
Students also have the opportunity to participate in various competitions including the national Putnam exam, an applied mathematics contest, and our own Rawles exam. To ease stress, the paraprofessionals keep a lively social calendar so students can meet after hours as well as for traditional parties including our spring picnic complete with number theory horse shoes.
The Math department is located on the second floor of the Tutt Science Center.