Study Abroad
---
Semester in France
The Department of French and Italian in partnership with the Institut de Touraine in Tours, France, now offers a semester in France on the block plan, called "CC in France." Click here for more detailed information.
Participating students must apply through the department. In mid-January, the selected students will meet in Paris to take a special shuttle to Tours. In Tours, they will stay with a host family and spend blocks 5 and 6 in language classes offered by the Institut de Touraine (founded in 1897) with their instructors. All students take a placement test upon entering the Institut, and CC students will be placed according to their level in courses with other international students. CC professors will teach 300-level courses in blocks 7 & 8 (varies from year to year). The Institut will rent classroom space to CC for those two blocks. In addition, the Institut will provide 2 full-day excursions to significant historic sites in the region (led by a professor from the University François Rabelais with expertise in the appropriate field), 2 half-day excursions, and 4 workshops of French cooking and gastronomy.
Spring Semester 2020
Blocks 5&6: FR299: Join students from around the world in your specific level in French Language Classes
Block 7: FR316:The South of France: Provence and the Mediterranean. With an extended stay in the South of France, this course will focus on the culture of the South, inclusive of its gastronomy, art, and identity. What makes the identity of the South and of Provence so appealing and unique? How and why does it differ from other regions in France? We will explore the food, the art, and the landscapes of Provence and the near Mediterranean as a way of answering these questions. Prerequisite: FR102; application and interview required. 1 unit – O'Riley
Block 8: French Cuisine and the Cultural Politics of Food in France. Part of CC's program in France, but taught in English. Why does the French government set the price of a baguette? How are the French responding to Starbucks and "MacDo"? And just how many official cheeses are there? This course will answer these questions and more by exploring the regional and national identities wrapped up in the notion of la cuisine française. Readings and class discussions with site visits, cooking lessons, and ample tastings will be supplemented with frequent excursions (in France and Italy) alongside the concurrent Italian course, Gusto: Italian Food as Art, Culture, and Tradition (taught in Italy). This comparison with a country having a similar culinary history will help uncover which foods and traditions the French view as distinctly their own, and how these notions of "French cuisine" deliberately exclude the many diverse cultures and gastronomies present in France today. Prerequisite: FR101 or FR299; application and interview required. Students must also enroll in FR316 block 7. -- Tallent
Students will receive 4 CC units of credit for the semester in France. All four blocks will be accepted towards a major or minor in French and Francophone Studies, or for the Romance Languages major or minor. Students can also fulfill the foreign language requirement with this semester.
Frequently Asked Questions
How much French do I need? None! Students may take the equivalent of FR101 and FR102 in blocks 5&6. Blocks 7 & 8 will be conducted in English, with enrichment activities for students of French.
Where will I live? For most of the semester students will live with a host family in Tours. All host families live within a radius that requires no more than a 25 minute walk to the Institut and the center of town.
How much extra will this semester cost? Click here for an explanation of the course charges
TO APPLY:
1. Complete the International Programs on-line application on Summit;
2. Once accepted, register for the appropriate courses on Banner

For information on long-term student visas, visit https://losangeles.consulfrance.org/spip.php?rubrique206
New rules for visas can be found at http://www.studying-in-france.org/visa-and-entry-requirements/
To register with Campus France (required for visa), visit http://www.usa.campusfrance.org
---
Cultural Studies in Francophone West Africa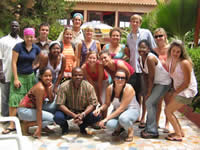 (Summer Schedule)
This course offers an analytical study of novels and films of various Senegalese authors and scholars. This includes the study of the modes of representations of cultural and sociopolitical issues and realities in Senegal and the Francophone area in general. Amongst the studied authors figure works of Senghor, Sembene Ousmane, Djibril Diop M., Aminata Sow Fall, Mariama Ba, Ken Bougoul and others. The course will also critically examine the current status of the West African Francophone region within the frame of existing cultural globalizing processes.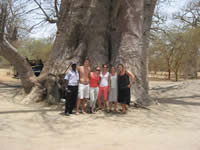 Field trips, field research, African dance, and Jembe sessions will be part of the academic and cultural assignments and offerings.
GS107 Wolof language and African culture studies no prerequisites, 2 CC units
FR207 Intermediate French and Cultural Studies prerequisite: FR101 or equivalent, 2 CC units
FR327/CO200 emphasizes French/Francophone literature, politics, and culture studies (taught in English with a French option) 2 CC units
Program fees and expenses:
Two blocks of tuition: $2675 per block. Students are eligible to use their wild card for one block.
Program Fee: $4,000. Includes Lodging, Food, and Field Trips in Senegal; does NOT include airfare; department scholarship funds may be available.
View more information on the African Studies Thematic Minor
Summer in Senegal video: Visite des Etudiants Américains à Ensup Afrique
http://www.youtube.com/watch?v=KQc4nA_XpVE
---
Block 8 in Italy -- not offered 2018-2019
Immerse yourself in the Italian language and culture during block 8, 2018. Travel to Southern Italy, including Sicily, Naples and Rome!
Choose from two courses:
IT320/FS205/CO200 Mafia Movies:
The mafia in Italy is referred to as a "piovra" or "octopus" as the phenomenon has pervaded almost every factor of Italian cultural life. Tony Soprano, Don Vito and Michael Corleone, Lucky Luciano, Robert De Niro, Salvatore Giulano, Martin Scorsese, Placido Rizzotto, Peppino Impastato, and Leonardo Sciascia are some of the historical and fictional figures that contribute to the myth of the Italian and Italian-American mafia. In this course we will identify these protagonists of movie folklore and critically assess their relationship to history, politics and social relations. We will use Italy as a backdrop for our discussions, including potential site visits to towns and former sets as a way of examining the topic further. (taught in English) Prof. Michael O'Riley
IT204 Intermediate Italian II:
This course is designed to build on the communication skills acquired in IT203. In a simulated immersive environment enhanced with Italian texts, films, and internet resources, students focus on developing reading, writing, speaking and listening skills as well as increasing their knowledge and understanding of Italian cultures. Prerequisite: Italian 203 or COI. Note: Students must take IT203 prior to taking this course, and both units must be successfully completed in order to fulfill the language requirement for graduation or to continue into 300-level Italian courses. Prof. Amanda Minervini
Frequently asked questions:
How much Italian do I need?
To enroll in IT204, you will need to have completed IT203 (Intermediate Italian I) or equivalent. IT320 will be taught in English.
Where will I live?
To be determined
How much extra will this block cost?
Program Fee to be determined PLUS airfare
Can I get financial aid?
Yes. Apply to the Office of International Programs, Armstrong Hall Room 215 beginning March 3, 2017https://www.coloradocollege.edu/offices/globalandfieldstudy/ . Please see Allen Bertsche in the OIP office with questions.
How do I apply?
This is the Department of French and Italian
Browse all Departments & Programs
​